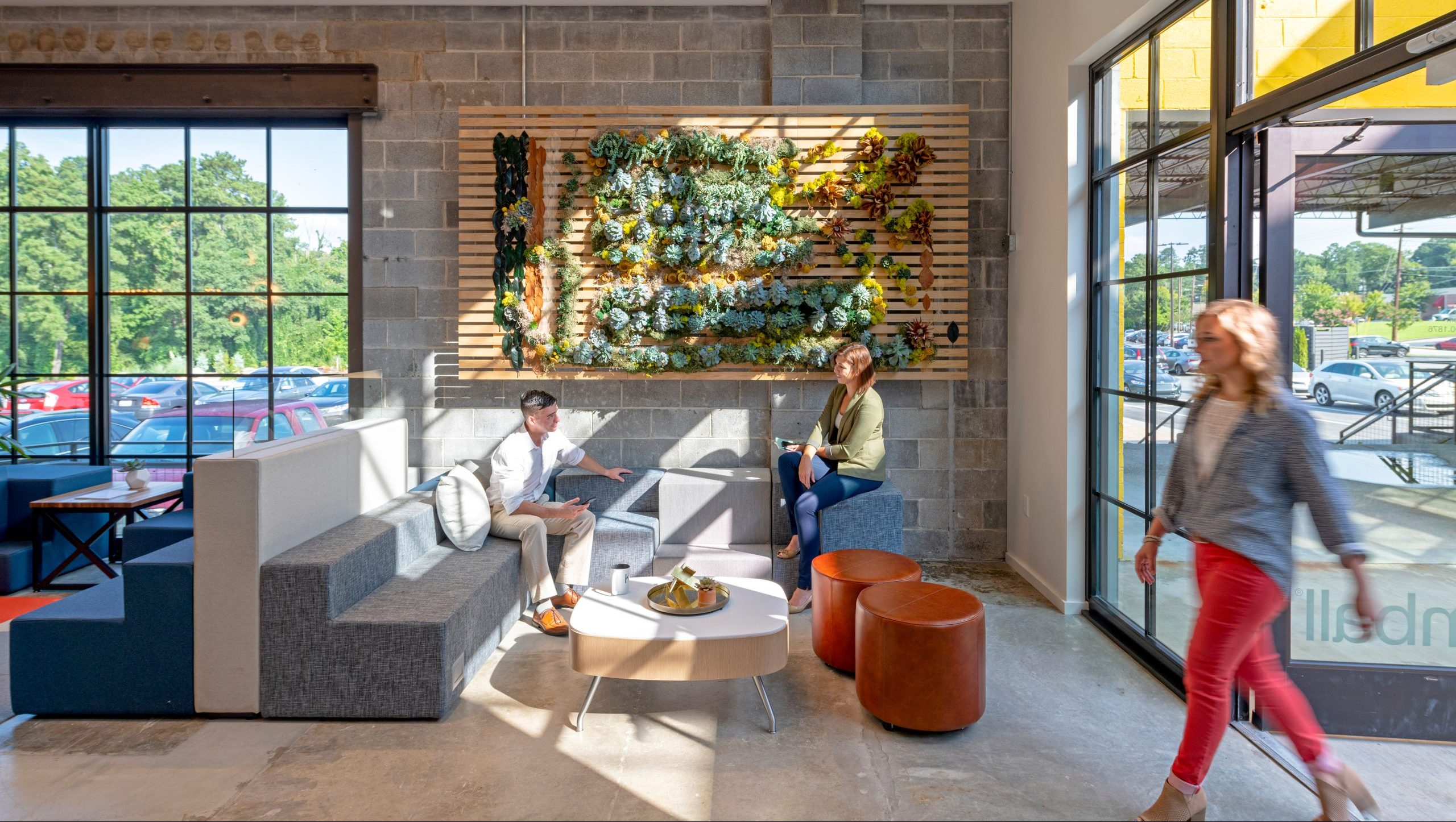 26 Apr

Innovative Design Solutions to Keep Your Patients and Staff Happy

As design continues to evolve, it is important to create spaces that support the overall health and well-being of both your staff and patients. The latest design trend is to create a space that easily adapts to future needs with human-centric design, proper ergonomics, and hospitality in mind.

To start, let's delve into what these terms mean. Human-centric design can be defined as the evolution of needs around visual and acoustic privacy, comfort, ergonomics, and access to technology. Essentially, when designing with a variety of unique elements, you are providing both choice and control. This will help staff and patients find the right conditions to best fit their personal preferences.

Next, ergonomics refers to designing a space to fit the needs of the user rather than making the user adjust to the workplace. The basics of ergonomics are to provide furnishings that support a comfortable neutral posture whenever possible. Ergonomics is often overlooked, yet very important to promoting employee health. It is important to note that comfortable employees are typically more focused and engaged, and take fewer breaks to recover from any types of strain they may be experiencing when proper ergonomics are not in place.

Lastly, hospitality elements concentrate on comfort, amenities, and skillfully styled interiors that reflect the brand of your dental practice.
How can these concepts be utilized to enhance a dental practice?
Break areas
When we think of break areas, generally people think of a room filled with basic tables and chairs. By applying innovative design concepts, we can incorporate fresh ideas to upgrade a standard break room to a flexible, dynamic space.
1. Consider implementing different height tables that allow staff to sit or stand.
If someone sits for most of the day, creating a space where they can stretch their legs and take lunch adapts to their individual needs.
2. Utilize tables that can be pushed together or separated to meet with either small or large groups.
If the intention is for a single space to be utilized for staff breaks, conference meetings, team huddles, training seminars, or more, flexible table arrangements can help your team convert from one need to the next with little effort.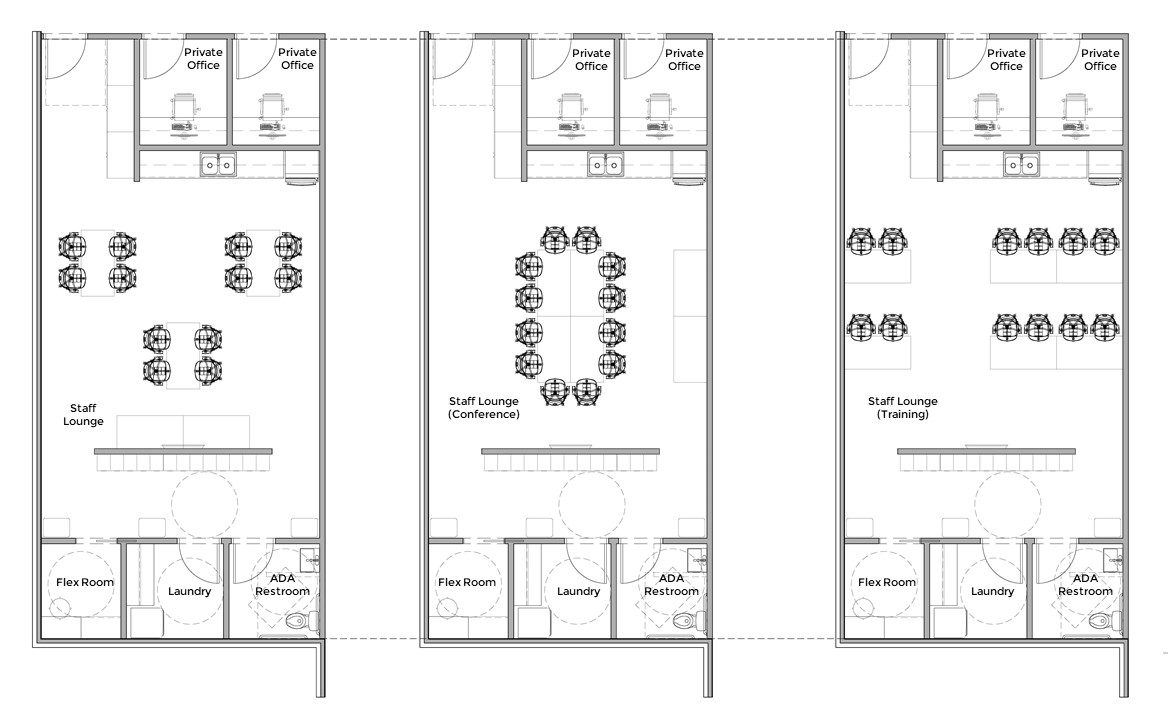 Office Areas
Whether it is the business office or a private office, selecting the right task seating can make or break a person's efficiency and comfort. As it is a chair that is utilized daily, it needs to be supportive with all the right features for proper ergonomics.
A functional task chair should allow for a wide variety of body sizes and types with the proper adjustments, provide appropriate lumbar support, and have a seat slider on the seat pan, multi-adjustable arms, and height adjustability
*Bonus points if the workstation and seat allow for sit-to-stand configuration.
Patient Waiting
We highly recommend designing waiting areas with varied seating types that not only enhance an individual's sense of privacy and personal space but can also be adjusted for additional needs such as all-team meetings or a gathering space for the community. Ideally, a space should have the ability to accommodate more seating if needed. The goal is to blend the comforts of home into a public space to help guests feel safe, and comfortable and gain a sense of familiarity. Some of the elements that achieve this include:
1. Chairs that support a wide variety of body sizes, types, and physical abilities
One size does not fit all; the depth, width, and height of the seat all impact a user's ability to sit comfortably and stand up with as minimal effort as possible. Consider providing a variety of options such as induvial chairs with and without arms, sofas, benching, or high-top seating.
2. Spaces for guests to work or charge technology
Offer a media station to plug in and work or plug-in capability in the lounge seating. This is greatly appreciated by those accompanying patients to treatment.
3. Implement color and texture
Layering a variety of finishes in the space will create a homier feel while reinforcing your brand. Think about your brand. Do you want to it to feel like an upscale coffee shop with warm woods, luxurious leathers, and brick facades to create a "vintage, found" feel? Or would you like your patients to feel like they are in your living room with crisp linens, inviting greenery, and craftsman wall details?
Click here for the full video presented by Jennifer Kilp and Carley Semmelmann of Corporate Design Interiors.
Looking for help in designing your practice? Click the link to schedule a complementary practice design consultation below: