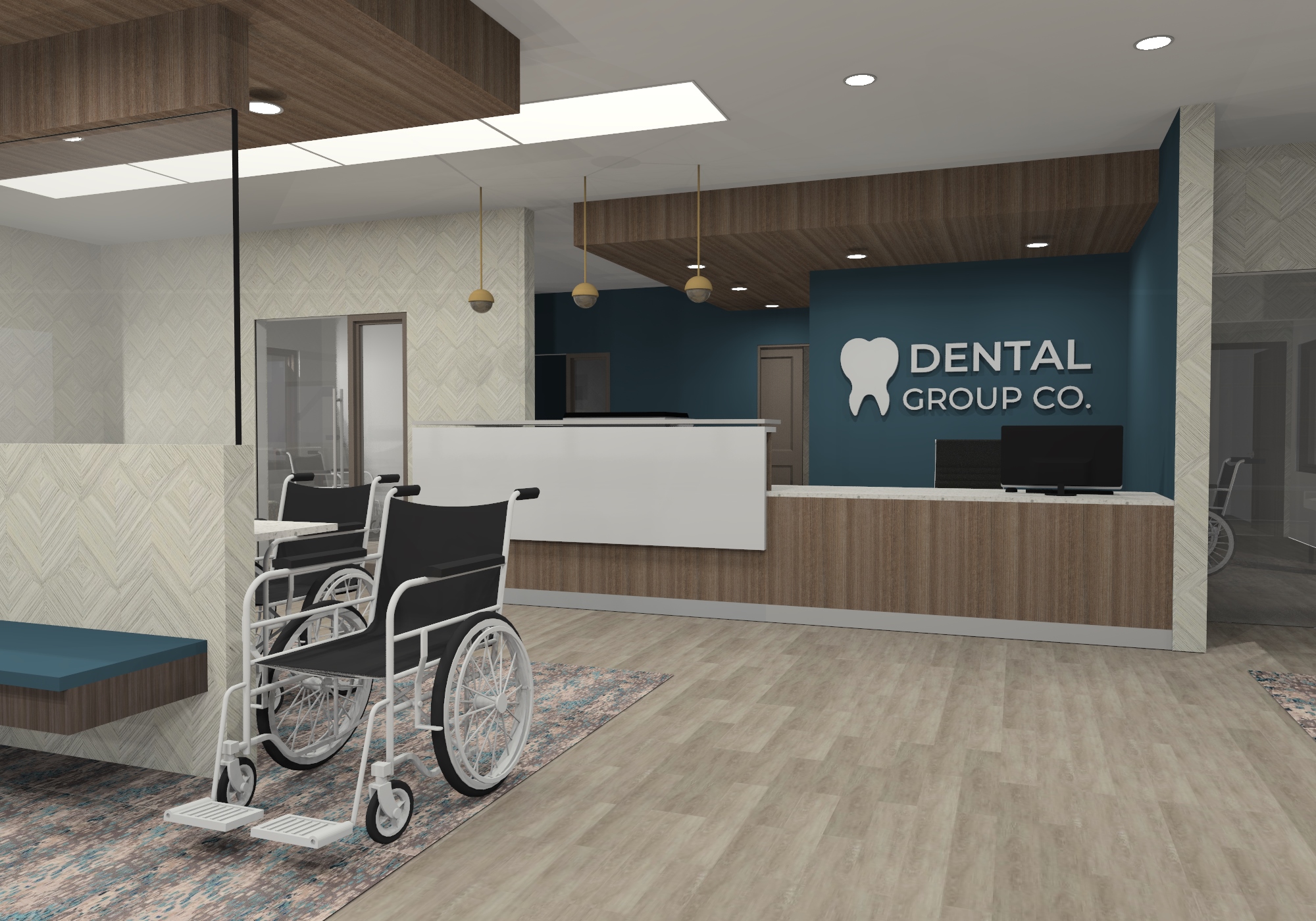 03 May

4924 Square Foot General Practice with an Emphasis on Special Care Needs

When referring to clothing, one size fits all is rarely a selling point. However, when it comes to care facilities, creating a space that suits the needs of all people should be the standard. For most people with special care needs, this is not the case. Unequal access to oral health care is the "number one unmet health need" for Americans with disabilities according to The Viscardi Center, an organization that educates, employs, and empowers adults and children with disabilities. What can the design of a space do to help close the gap in accessible care? This 4,924 square foot general practice implements a variety of solutions and added amenities to provide more accessible and comfortable experience.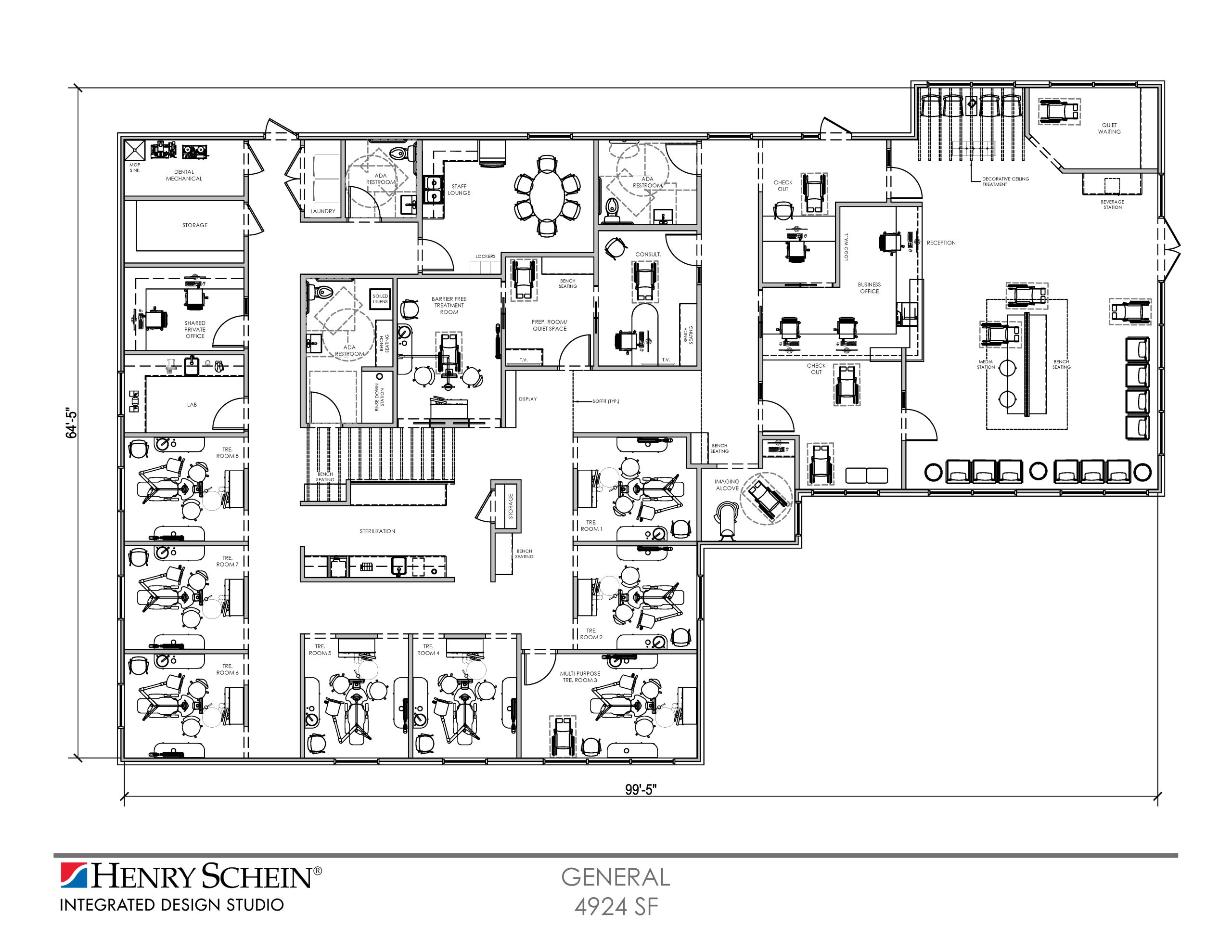 Public Zone
Upon entering the space, there is a wide, direct path to reception with waiting on either side. To the left is more standard waiting with a central media station with power outlets for technology to work or play. To the right are two quiet waiting spaces that offer additional privacy.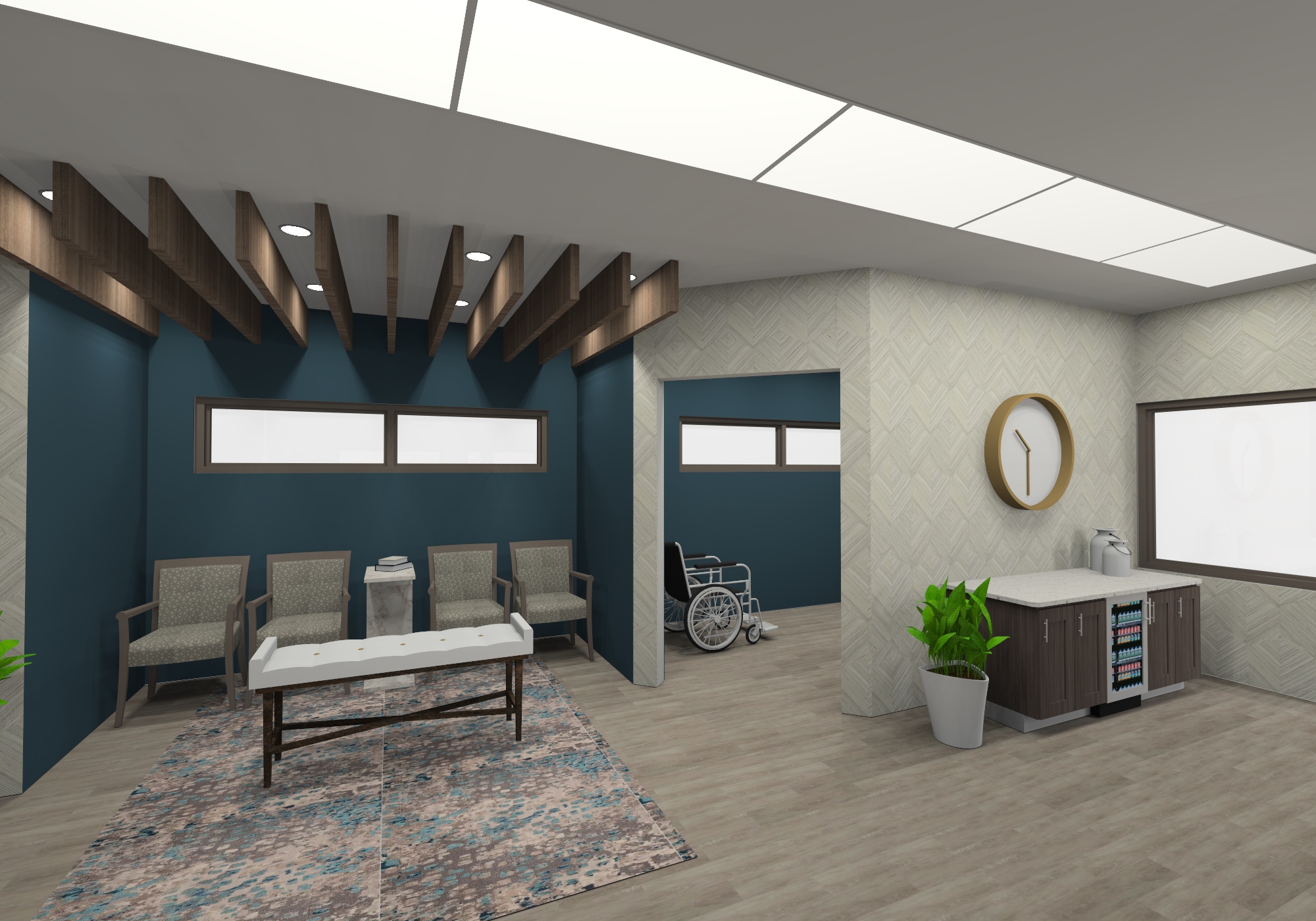 There are two check-out areas on either side of the business desk. The traditional check-out with seating is positioned on the right side of the business desk, while the stand-up check-out is on the left. However even when implementing the stand-up style, the height of the desk is lowered to the standard ADA accessible 36 inches. There is also bench seating and a wheelchair parking spot behind if a caretaker is facilitating payment and reappointment.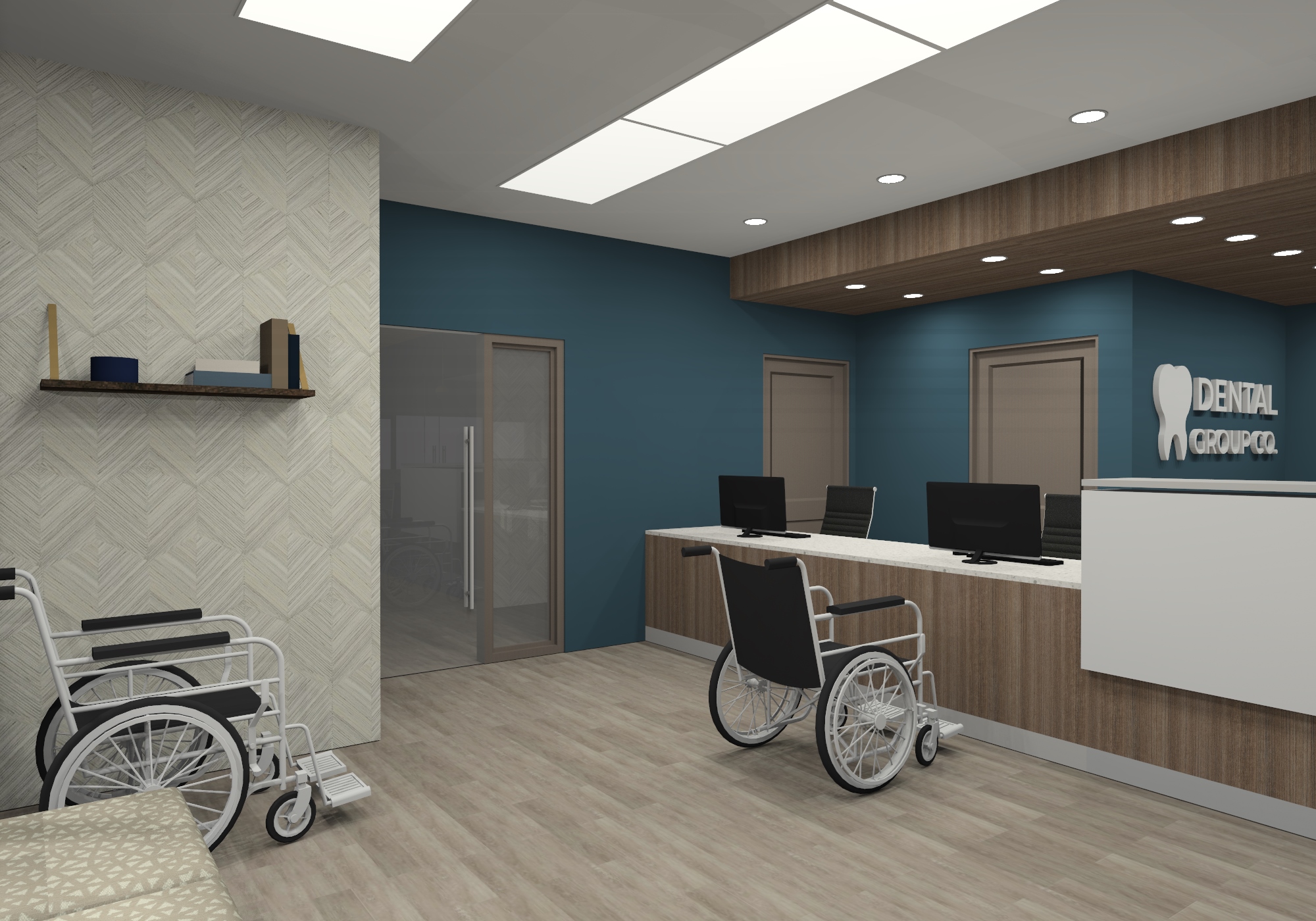 The most unique space in this dental practice is the room between consultation and the barrier-free treatment room. This room can function as either a quiet or preparation space. It has a pocket door on either side; one doorway connects to the consultation room while the other leads into a treatment room with a wheelchair tilting device instead of a treatment chair. This space includes bench seating, a TV, and a designated parking space for a wheelchair.
When in consultation, the pocket door into the quiet space can be opened to provide additional seating for a family. Additionally, if a caretaker is discussing treatment planning with the doctor, this secondary room can become a space for the patient to relax without overstimulation and allows the doctor and caretaker to discuss while still monitoring the patient.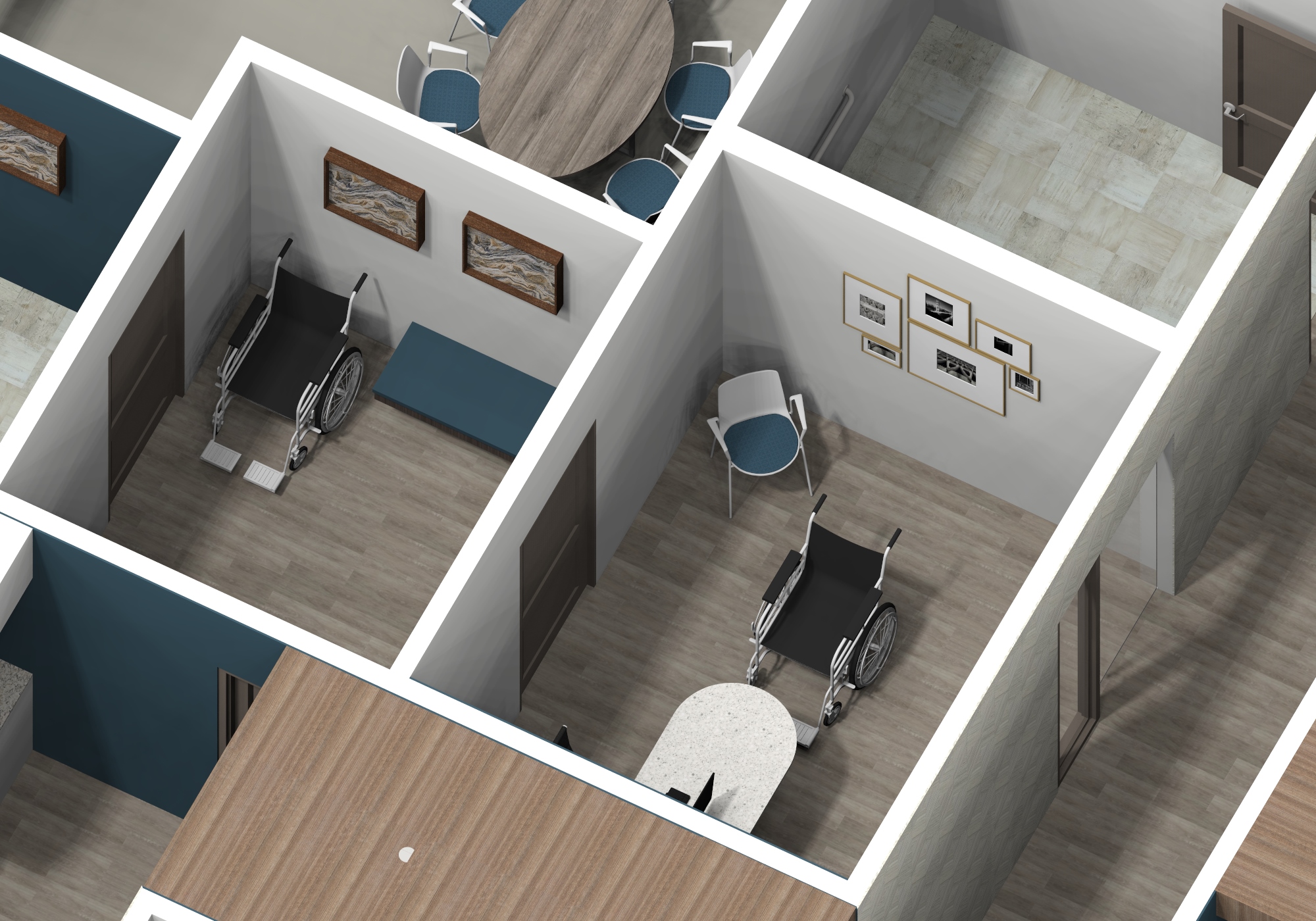 If the patient is hesitant, this room can function as a preparatory space that provides a staged transition into treatment. The door could also be opened to the treatment room and act as family waiting if there are multiple patients. This specific plan shows a wheelchair tilting device, but the same concept could be applied to a standard treatment room.
Clinical Zone
Aside from the barrier-free treatment room, there is also an oversized multipurpose treatment room. This treatment room is located at the end of the hall and instead of maintaining the dual, rear entry set-up, the designer opted for a closed side entry, eating up what would have been a dead hall. This allows the patient to enter at the toe of the chair, which can be a bit easier for someone using a mobility device to approach and transition to the dental chair. This also creates space for additional guest or caretaker seating.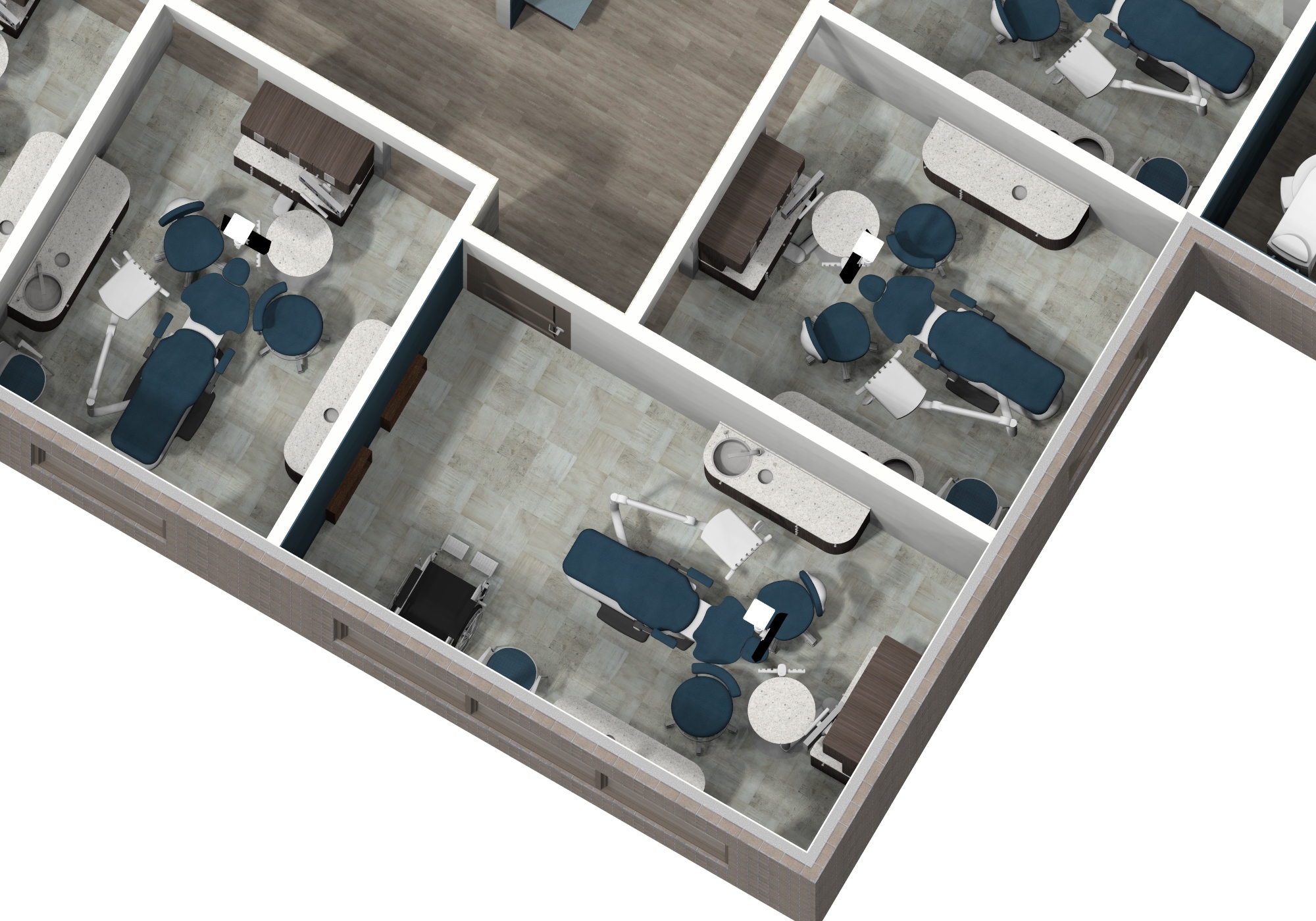 Benching throughout the treatment halls offers seating for caretakers or guests accompanying the patient to treatment but not into the treatment room itself, or for patients in need of necessary breaks on their way to the treatment room.
Private Zone
The private zone houses a large bulk storage room, the dental mechanicals room, and a laundry closet. There is also a shared private office with two workstations, and a staff lounge with lockers for personal storage.
When implementing these design solutions to increase accessibility to care, the benefits go beyond the patient. A practice can increase its patient base by providing services to an under-served market; this becomes a marketable and educational aspect of the practice. In conjunction, when increased populations are able to access and use spaces and services that were otherwise seen as barriers, it can lead to greater degrees of independent living and participation in the community and society.
​
Looking for assistance in designing your space? Click the image below to schedule a complementary practice design consultation with a Henry Schein Equipment Specialist.