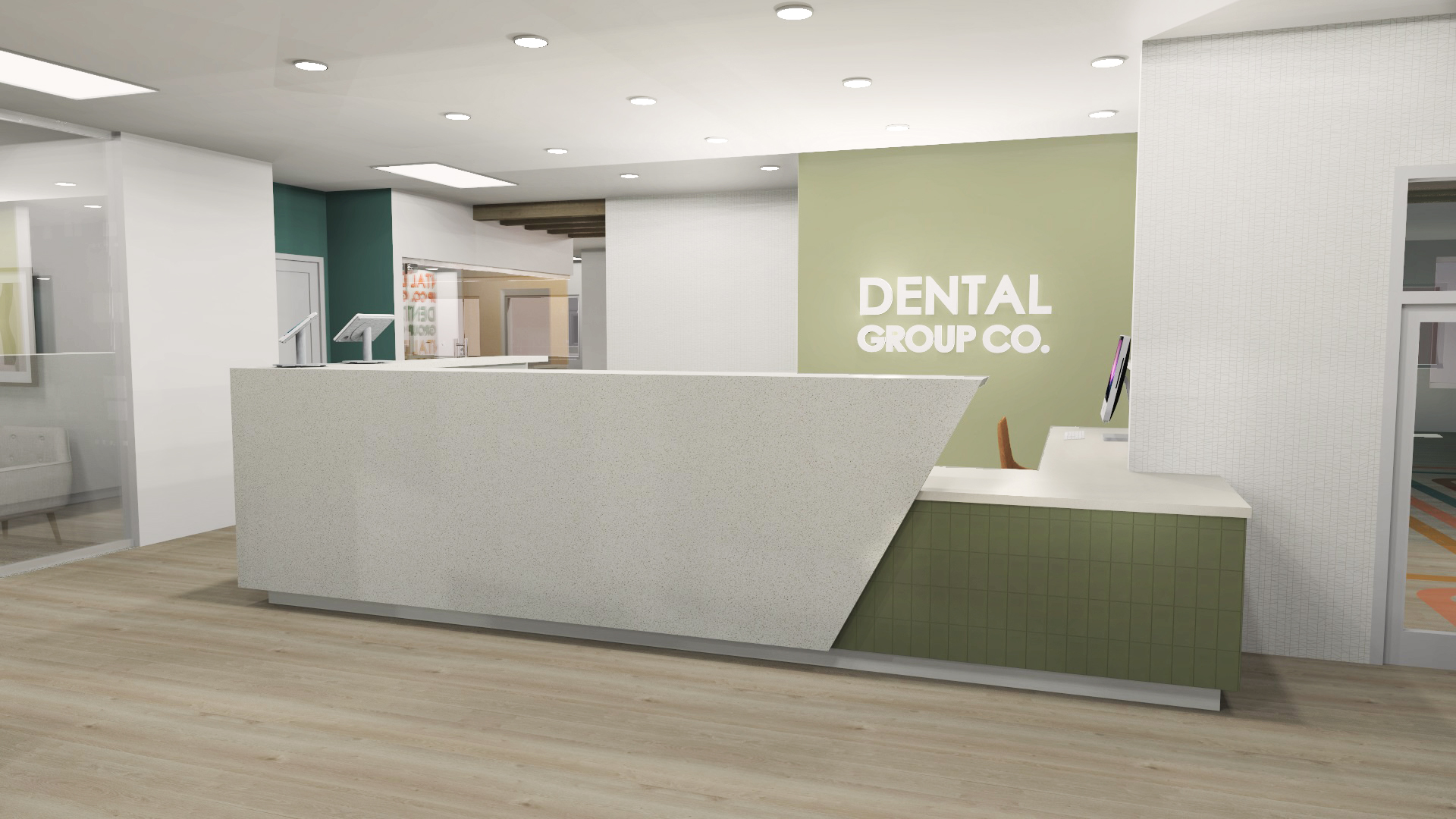 24 May

It's All About the Patient: Harnessing Human-Centered Design to Enhance the Patient's Experience

In this article, we will discuss featured design approaches focused on pediatric and orthodontic practices that can be applied to all dental practices committed to a patient-centered experience.
What is Human-Centered Design?
With over twenty years in the dental design industry, Integrated Design Studio has collaborated with doctors across a wide range of care philosophies and practice management. We understand that your practice is more than just a building—it is your livelihood and a direct extension of yourself as a professional caregiver. However, the practice is not just for doctors and staff; to be successful it must serve the patient. The goal of human-centered design is to develop solutions based on the user experience to create a design that is viable, feasible, and desirable. In dental, this user group includes the practitioner, staff, patient, patient's caretaker, and guests.
To evaluate and address design problems, designers often break this down into three phases: inspiration, ideation, and implementation. Inspiration includes learning from those that inhabit the space through observation and conversation. Ideation is making sense of what was learned into a possible solution for the space. Lastly, implementation brings the solution to life to enhance the space and ideally gain the trust and confidence of the user, in this case, your patients.
In the case of a dental environment, we have identified three key categories to hone when designing a dental practice with the user experience in mind.
Welcoming and Comforting
Time Optimization
Unique Experience
Henry Schein Equipment Specialist Ben Oliver offers his insight: "Demographics is really all about understanding who your client is. As much as you would like to think that you're just a clinician as a business owner, you're actually in sales too and you have to know your customers to succeed."
Human-centered design and demographics go hand in hand when identifying who you are serving or would like to serve. Once you identify your ideal patient, you can create a space that suits their needs based on the three identified categories and attract them to your practice over a competitor.
Often, a dental office is not only catering to the patient, but to a guest or caretaker as well. To encompass a broader range of users, we have narrowed in on a combined Orthodontic and Pediatric practice to delve into these categories. Between the two specialties, patients can range from an infant to an adult, with adults predominately in the office as guests, parents, or caretakers.
Consideration #1: Welcoming and Comforting
We have all heard the phrase before "you never get a second chance to make a first impression." As a result, it's important to create a space that welcomes your guests to a comfortable environment the moment they step in the door. When assessing the design of the waiting room, a great place to start is the visibility of the greeter. We recommend a clear path and sightline from the entrance to your reception so a patient can be welcomed into the space and helped immediately.
Another recommendation is to create an open space. While not all practices have the luxury of space, the color palette and décor can greatly affect the feel of a space. A color palette with a light neutral base keeps a space feeling light and airy compared to dark walls or heavy, dark furniture. Stylized or colorful accents can be applied to provide focal points and keep up with trends. Thoughtful design accents include layered lighting or varied seating in the waiting and reception area. Also, it is important to note that your interior design and layout will affect the age range that you are able to attract. A common theme we are experiencing is designing practices with a more neutral look to broaden their patient pool.
As mentioned before, universal design is all about meeting the needs of every user. Incorporate ADA regulations to make each person that enters your practice feel accommodated. We highly recommend maintaining a space in your waiting area, check-out space, and treatment for a wheelchair to park. Often those using mobility devices find themselves feeling "in the way" or unaccounted for in the design of a space. No one deserves to feel like an afterthought, so create accessibility not just in the regulations, but in every aspect you as the practitioner have control over.
Finally, it is beneficial to include amenities such as a beverage station, a media station with power outlets, children's play areas, and perhaps even a mother's room for nursing parents. Over the past few years, the visibility of a nursing mother's needs has increased and several design solutions have been implemented to create comfortable, private spaces for parents. Whether it is the pod or booth style often found in airports or a small lockable room, this amenity can set your practice apart from others, especially in the pediatric field. In a mother's room, we recommend including comfortable seating, surfaces to set bags down, an infant changing area, a mirror, hooks, and a sink if space allows. Because this room may not be used on a regular basis, consider utilizing this as a dual-function infant exam room.
Consideration #2: Time Optimization
It is no surprise that dentist appointments are not at the top of a parent's list of fun things to do with their kids. They can be hectic, hard to plan around a work schedule, and time-consuming, especially if there are multiple children. For both the caretakers and the practice, time optimization is key for a successful and enjoyable visit.
In waiting, we recommend providing a media station for parents to catch up on work or enjoy some free time. The workforce is increasingly mobile, so creating a space for a parent or guest to capitalize on their time spent in the waiting room can be a huge benefit when compared to an office that does not offer as comfortable of a solution.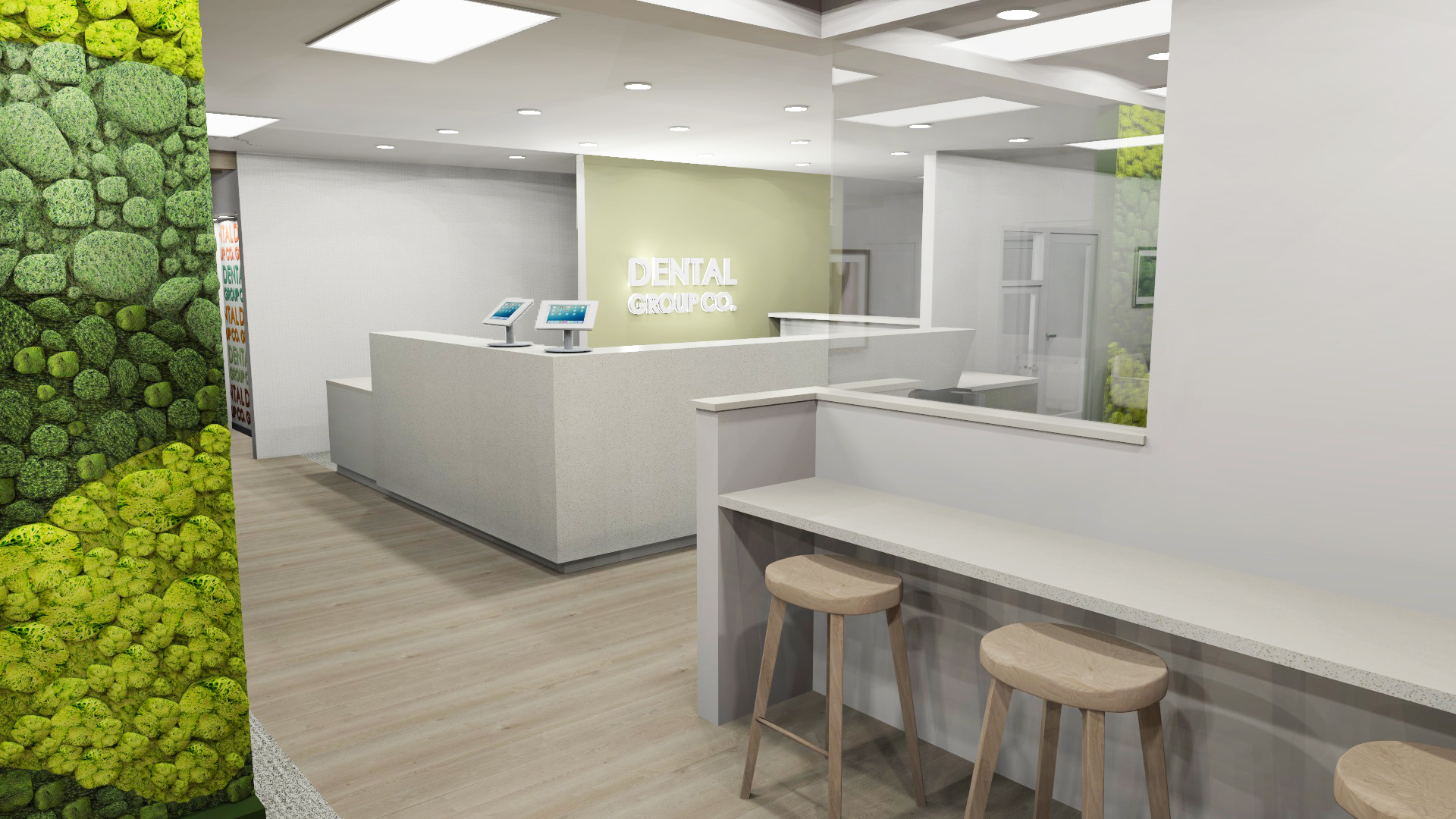 Next, check-in and check-out. Let's be honest, no one likes to wait in line. So, to help this, think about offering multiple check-in and check-out areas, filling out patient forms online, mobile booking, a check-in kiosk, and making reappointments and even possibly payment in the treatment space. Lastly, providing multiple entry and exit doors to clinical further decreases bottlenecks and creates a much more streamlined workflow for the patient and staff.
Lastly, think about the services you are offering to your patients. We have seen a noticeable increase in the number of combination practices, especially in Pediatrics and Orthodontics. These two specialties are a winning combination due to the overlap of patients. Not only does it simplify referrals, but the parents also appreciate that the services are in one easy location. If there are multiple children, the family may even be knocking out two different specialty appointments in one visit. We have also seen an increase in "traveling" specialists to different practices. Designating one larger treatment room for specialized appointments such as endodontics, oral surgery, or periodontics in a general practice can also achieve the same "one-stop-shop" convenience and increase income from a broader range of procedures or dental suite rental.
 Consideration #3: Creating a Unique Experience
A patient's experience goes beyond their treatment. The best question to ask yourself is how you can make your practice stand out from the competition. One way to evaluate this is to consider the five senses. Our senses are how we typically perceive and make judgments on an environment.
Sight
Aside from the aesthetics, sight includes controlling what a patient or guest sees. Imagine yourself from the patient's perspective. What is less desirable to see? This could be file storage, I.T. server cabinets, or other potentially "messy" necessities in managing a practice. Communicate with your designer your needs for these spaces so they can design ways to obstruct the view or recommend products.
In treatment, this can also refer to what the patient is looking at while in the dental chair. If your practice does not have access to natural light, consider adding artwork, accent materials, or televisions mounted above the patient's head during treatment.
Smell & Taste
These two senses are not typically discussed in design, but are still important to consider. With the sense of smell, we often discuss how to conceal any unwanted aromas. To combat this, the first step is to design a well-thought-out space plan with the public area separated from the private zone, specifically the staff lounge. Another solution is to invest in an air purification system. Many offices have implemented either HVAC-based filtration or individual units throughout the office for infection control, so the air's enhanced scent is a bonus.
In terms of taste, providing options for toothpaste, fluoride, or other treatment-based products gives a patient more control over the experience. Beverage stations or even partnering with local drink cafés for a post-treatment treat are nice options for patients or guests for added convenience and memorability.
Sound
The next sense we look at when creating an experience is sound. Incorporating acoustical products to reduce sound pollution is a great solution. We also recommend bringing in light music, sound masking, or even water features to cover any unwanted sounds. As previously mentioned, air-purifying units have also been identified as a great white noise solution in treatment.
Touch
The last sense is touch. Selecting textures, surfaces, and materials that are both comfortable and interactive can be a huge asset. The sense of touch does not necessarily have to be something you are physically touching as well. For example, in this image, we have a living wall made of different colored mosses that are enhancing the feeling of touch through texture and dimension.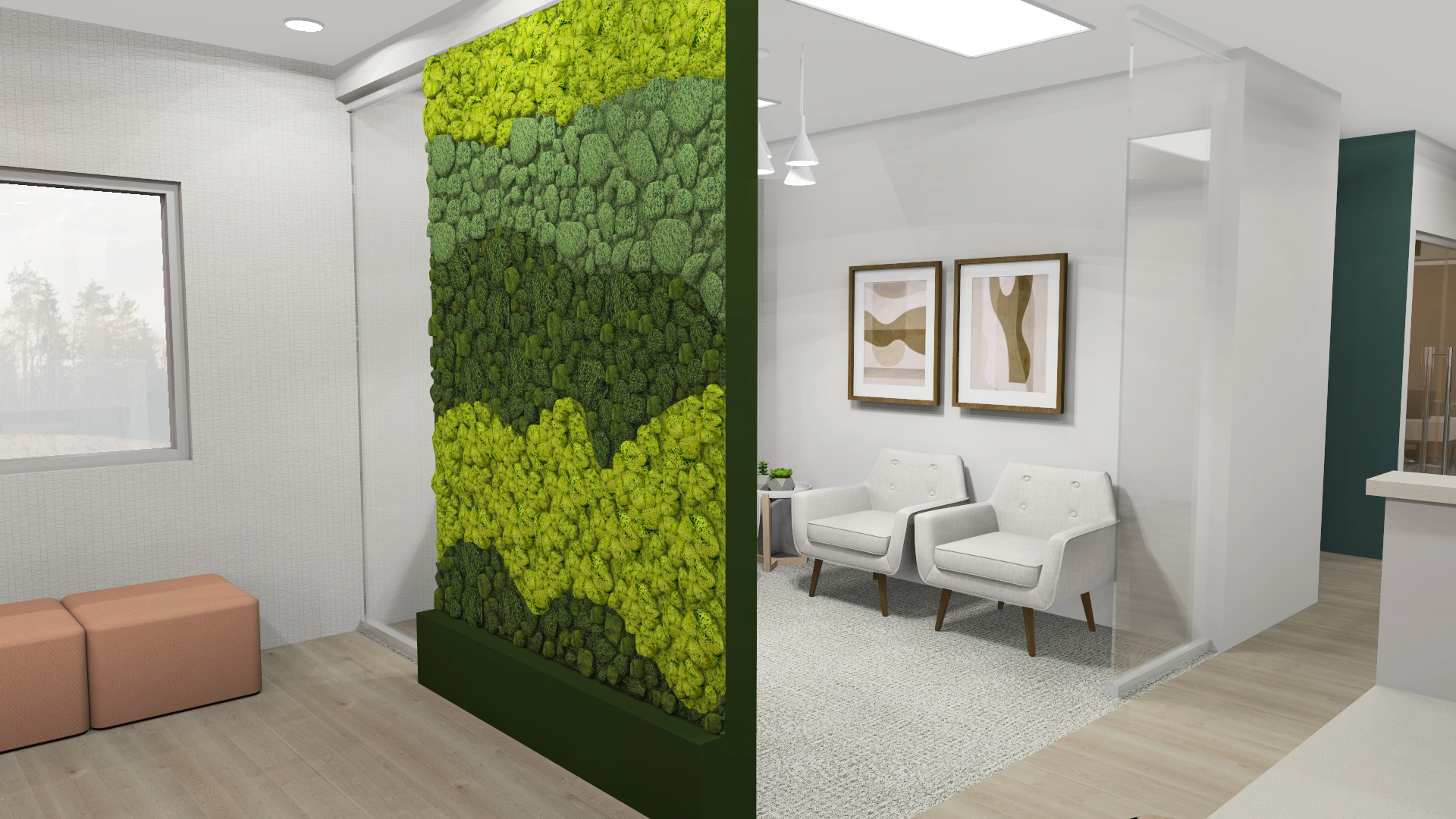 For every dental practice, creating an environment that serves the patient, caretaker, and guest is crucial to increasing patient retention rates. By applying a human-centric approach to the design of the office, we can create engaging spaces for all to enjoy and support the practice in streamlining workflows. Overall, allow yourself the flexibility to change and adapt to future opportunities.
Check out the full video regarding human-centered design here.
Thinking about a new practice build? Click the image below to schedule a complementary practice design consultation with a Henry Schein Equipment Specialist.