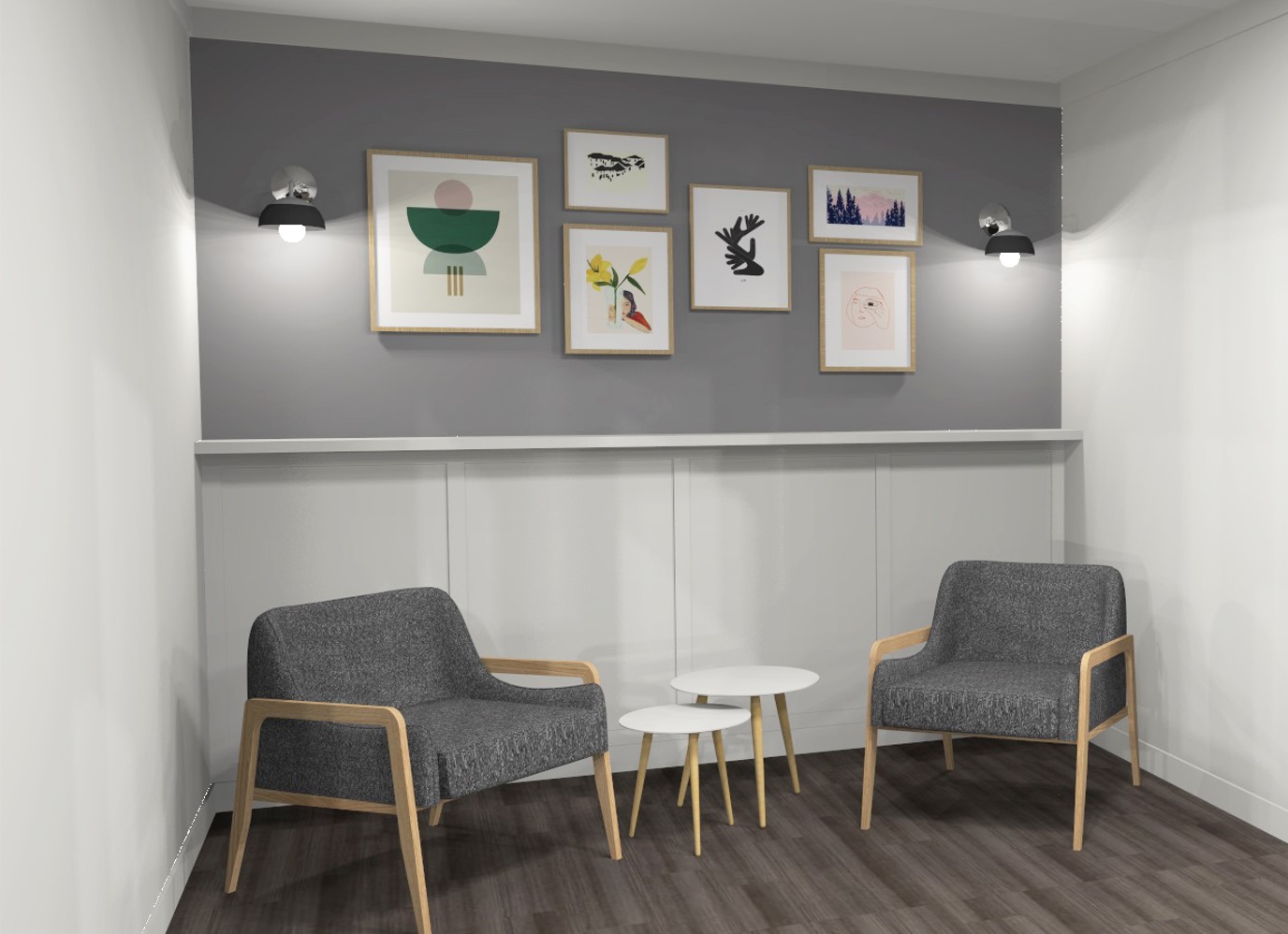 01 Jun

3 Questions to Ask Yourself when Revitalizing Your Office Interiors

Renovating your dental office can be an overwhelming process and sometimes hard to know where to begin. Henry Schein Integrated Design Studio has three main questions to ask yourself when considering an interior-focused remodel.   

 
1. Understanding Your Why: What is the Condition of Your Current Space?
Consider the following: 
Are your finishes in good condition? Is there any wear, scratches, chipping, staining, etc?

 

Does your office look outdated in color, style, or material? More specifically, if you choose to update select any finishes, will anything surrounding it look outdated?

 
There is more to assess than just the physical appearance of your current space. What types of patients are you currently seeing? What may have suited your family-centric practice fifteen years ago may not be the same as your current empty-nester patients. Depending on your specialty and the community, "de-specializing" your interiors to fit more of a neutral look can be helpful to pull in a broader range of patients.  
2. Determining Your Focus Areas: What Area is the Most Important to Update?
On average, the materials with the highest impact will be your flooring, wall treatments, and countertops.  
Flooring
There are many aspects to consider when choosing the right flooring for your space. First, all selections should be commercial grade. Due to the high traffic of staff, patients, and movable technology, it is important to install flooring that resists wear and tear. Each flooring type comes in a variety of colors, patterns, and styles to choose from. Flooring is also great for zoning, wayfinding, and adding visual interest to the office. 
Each flooring type comes in a variety of different price points and can be installed in a multitude of ways. A more cost-effective option installed in an interesting pattern can enhance the design impact. Tile is the most difficult to install and typically comes at a higher cost, so it is best to keep the installation small and utilize vinyl plank for most of your floor. 
Luxury Vinyl Tile (LVT): Available in either planks or tiles, luxury vinyl tile is thicker than other vinyl tiles with a softer feel and better acoustics when compared to hardwood or laminate floors. Most LVT does not require adhesive during installation. The tiles are laid tightly to one another to avoid gaping at the seams, resulting in a highly water-resistant finish. Maintenance required includes sweeping or a damp mop, but more heavy-handed steaming, sealing, or buffing is not recommended. 
Modular Carpet Tiles: Modular carpet has taken over most commercial projects compared to its broadloom counterpart. One of the biggest benefits of modular carpet tiles is if one or even a few carpet tiles were to become damaged, you can replace the damaged tiles rather than replacing your entire flooring.  
Ceramic or Porcelain Tile: Per code, tile is typically required in restrooms, however, it is a nice addition for other wet areas of the office such as a vestibule or around the reception desk.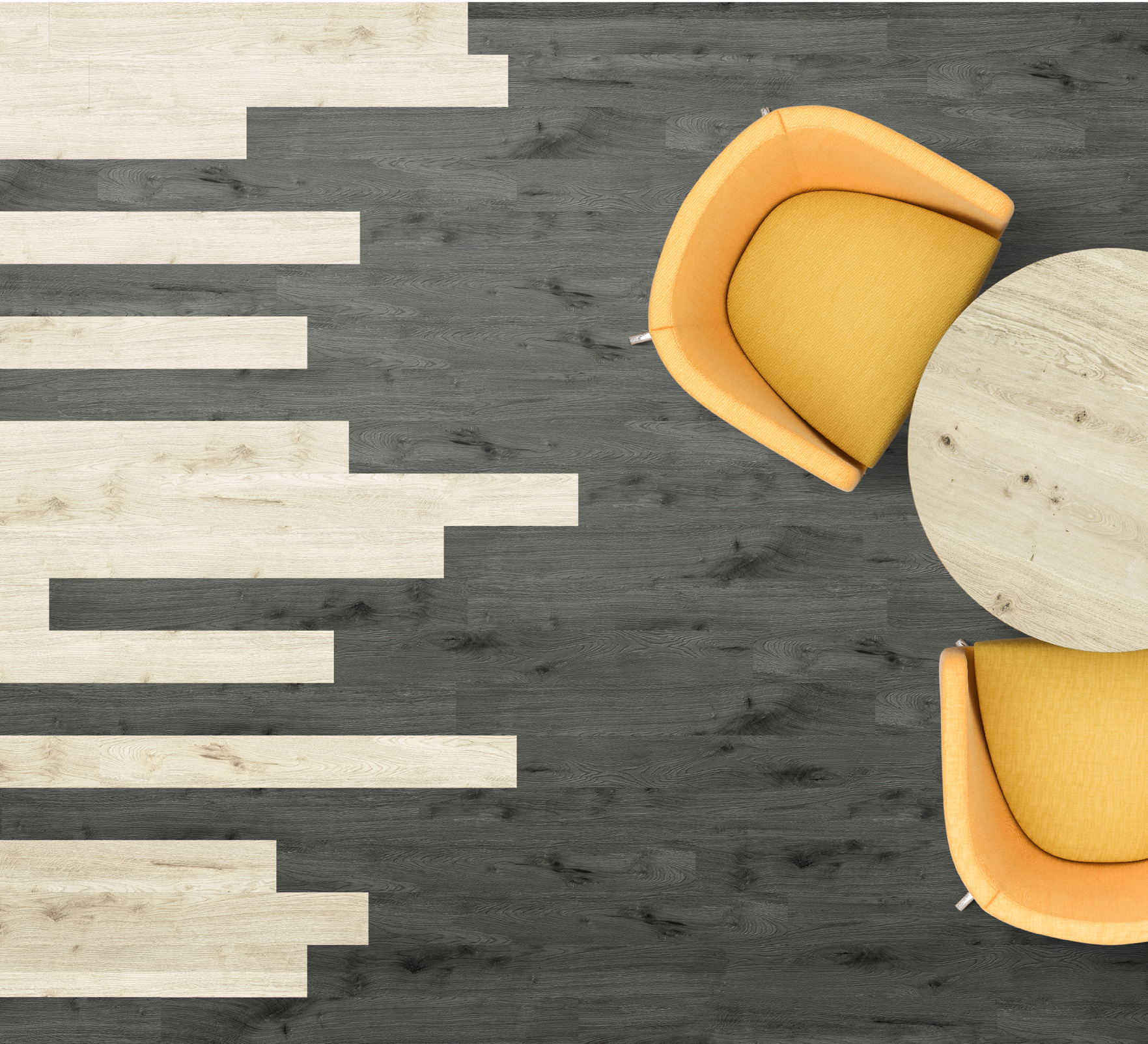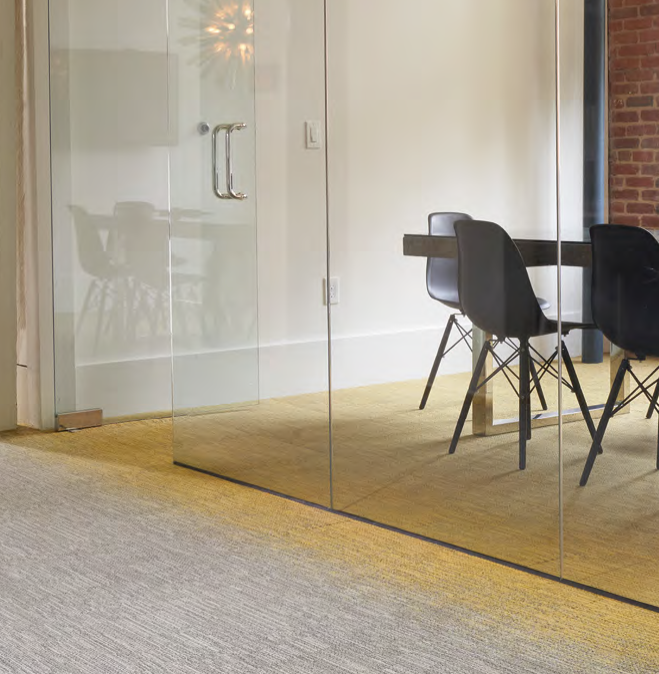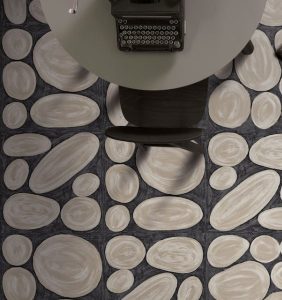 (Left to right: Luxury Vinyl Tile, Modular Carpet, Porcelain Tile)
Wall Treatments
There are two main reasons for incorporating wall treatments other than paint: durability and aesthetics.  Choosing the appropriate wall finish is most important when relating to durability. Areas that may see the most wear and tear include the front of the reception desk, a kid's area, and treatment halls. Like flooring, the budget will also affect how and where wall treatments are incorporated. Because of this, we recommend only including in the patient-centric areas such as the reception area, waiting, consult room, or at the toe wall of treatment rooms.  
Type II Wallcovering: While many doctors are hesitant to incorporate wallcovering due to its infamous reputation, Type II is not the same as your grandmother's wallpaper from fifty years ago. This wallcovering is a thick vinyl that protects the drywall beneath, hides imperfections, and can even improve office acoustics.  
Textured/ Dimensional Panels: This type of wall treatment is a bit newer in the commercial world. It is constructed of high-impact thermoplastics and is often sold in 4'x8' panels. Panels are easily installed with liquid nails and can be cut on-site. Available in a wide range of designs and colors, dimension panels add an appealing element of contrast and design. 
Tile: Like flooring, tile is often required in wet areas per building code. Other areas of installation may include a brushing station, beverage counter, or sterilization center. 
A few other options of wall treatment to consider include wood, millwork walls like wainscoting, and stacked stone.  
           
(Left to right: Type II Wallcovering, Dimension Panel inset, Herringbone Ceramic Tile, Stacked Stone)
Countertops
There are three main countertop materials that we recommend throughout a dental practice. 
Laminate: Laminate, specifically High-Pressure Laminate (HPL) is a good option as it comes in many different colors, is quite affordable and can replicate the look of wood, stone, metal, or virtually any material or texture. This is ideal for dry workstations like reception, private offices, consult, and digital processing stations.  
Solid Surface: A step above the laminate, solid surface is a quality, cost-efficient option that is non-porous for easier cleaning and durability. Although it may scratch, the product is repairable. 
Quartz: Quartz is a nonporous surface so there is no sealant required. This extremely durable surface is best at the reception desk as the transaction counter, in sterilization, treatment, and wet areas such as restrooms, beverage stations, and brushing and handwashing stations.  
While granite and marble are common in residential spaces, we do not recommend these surfaces for the dental environment because they require regular sealants. 
Additional Considerations
To make your space transform from simply finished to fully designed, you can add pieces such as furniture, artwork, and lighting.  
Lighting: Our design team fondly refers to decorative lighting as the "jewelry" of a space. It is best to make these selections along with your materials for your designers to plan for, and contractors to install.  
Furniture: When choosing furniture, we highly recommend selecting only commercial-grade pieces. There are a variety of styles like modern, transitional, or contemporary, and can help create the design and personality you are looking for in your office. Commercial grade is highly customizable, has long-lasting warranties, is tested for durability and weight-bearing qualities, and is finished with commercial grade fabric.  
Artwork: Unlike lighting and furniture, artwork is not required for opening your practice and seeing your patients. However, art can greatly enhance the look and feel of a space, so we do recommend adding it later.  
3. Looking Towards the Future: How can you Implement Current and Future Trends in Your Design?
The key to designing a timeless office is to keep your main materials such as your primary flooring, wall treatments, counters, and cabinetry in neutral tones and clean lines. Accent materials like paint, carpet insets and logo walls are relatively small-scale features that can be updated every few years if you desire. Smaller accents like fabric on throw pillows, artwork, and shelving décor can be more easily swapped without interruption to your practice.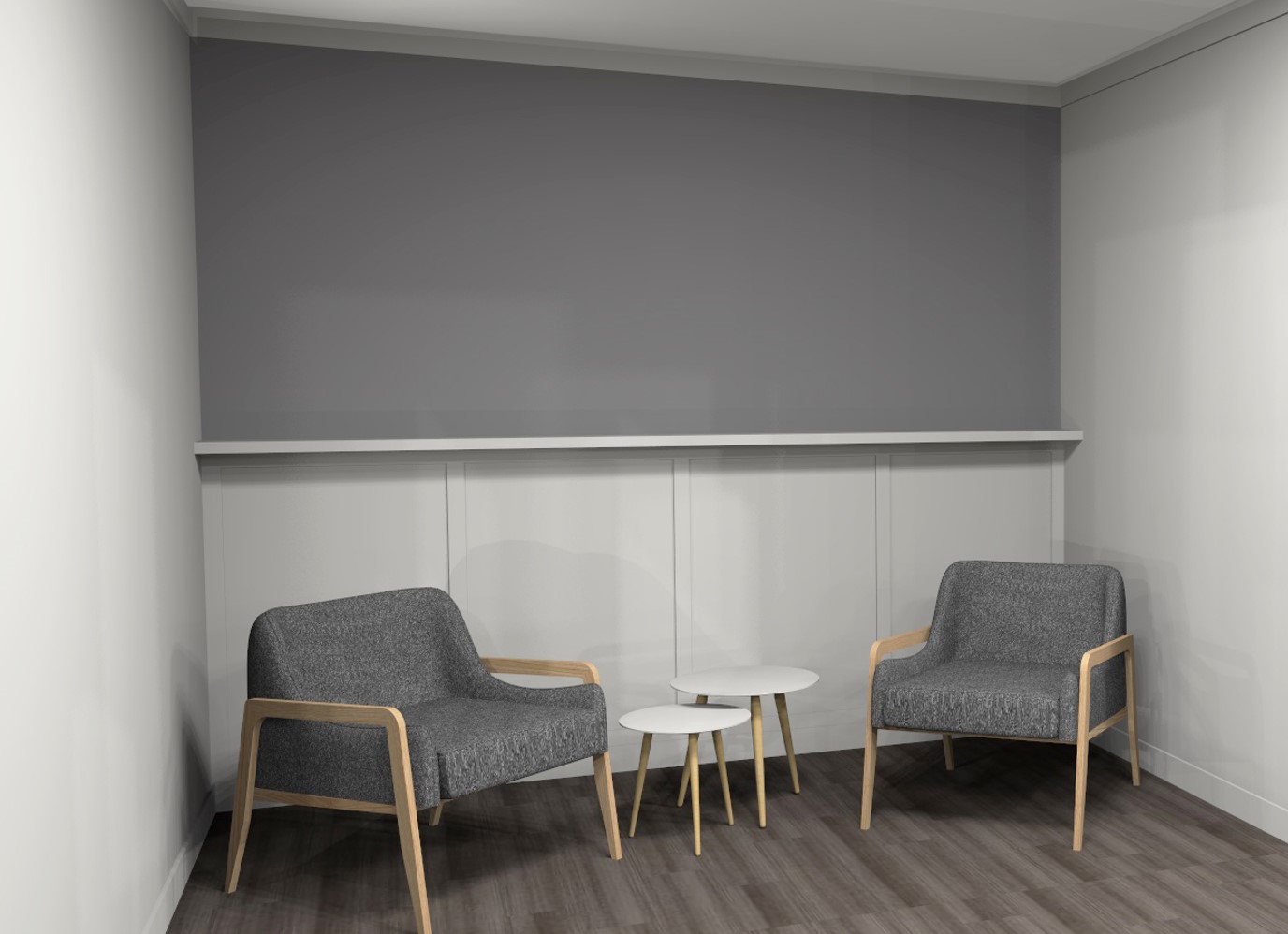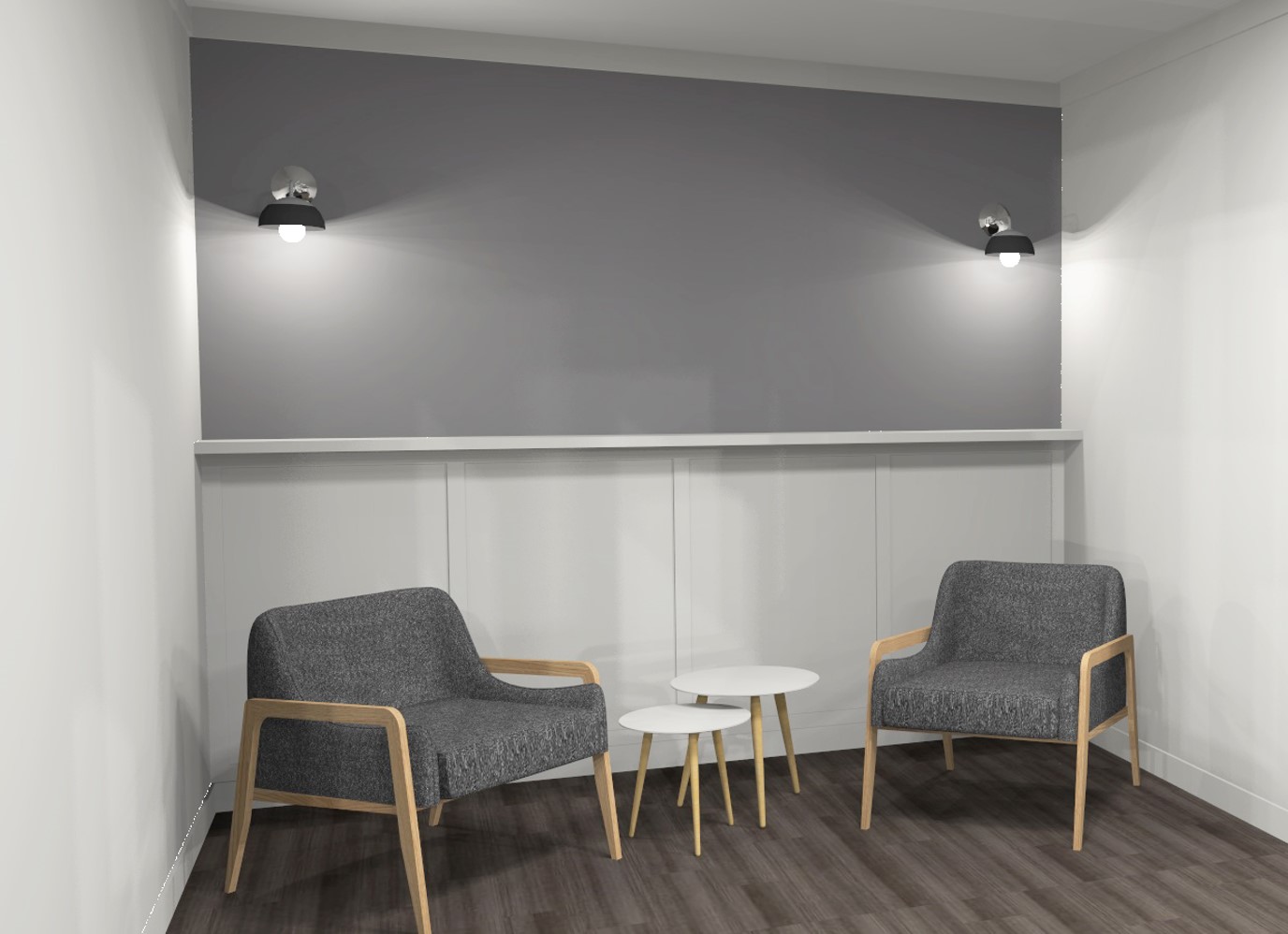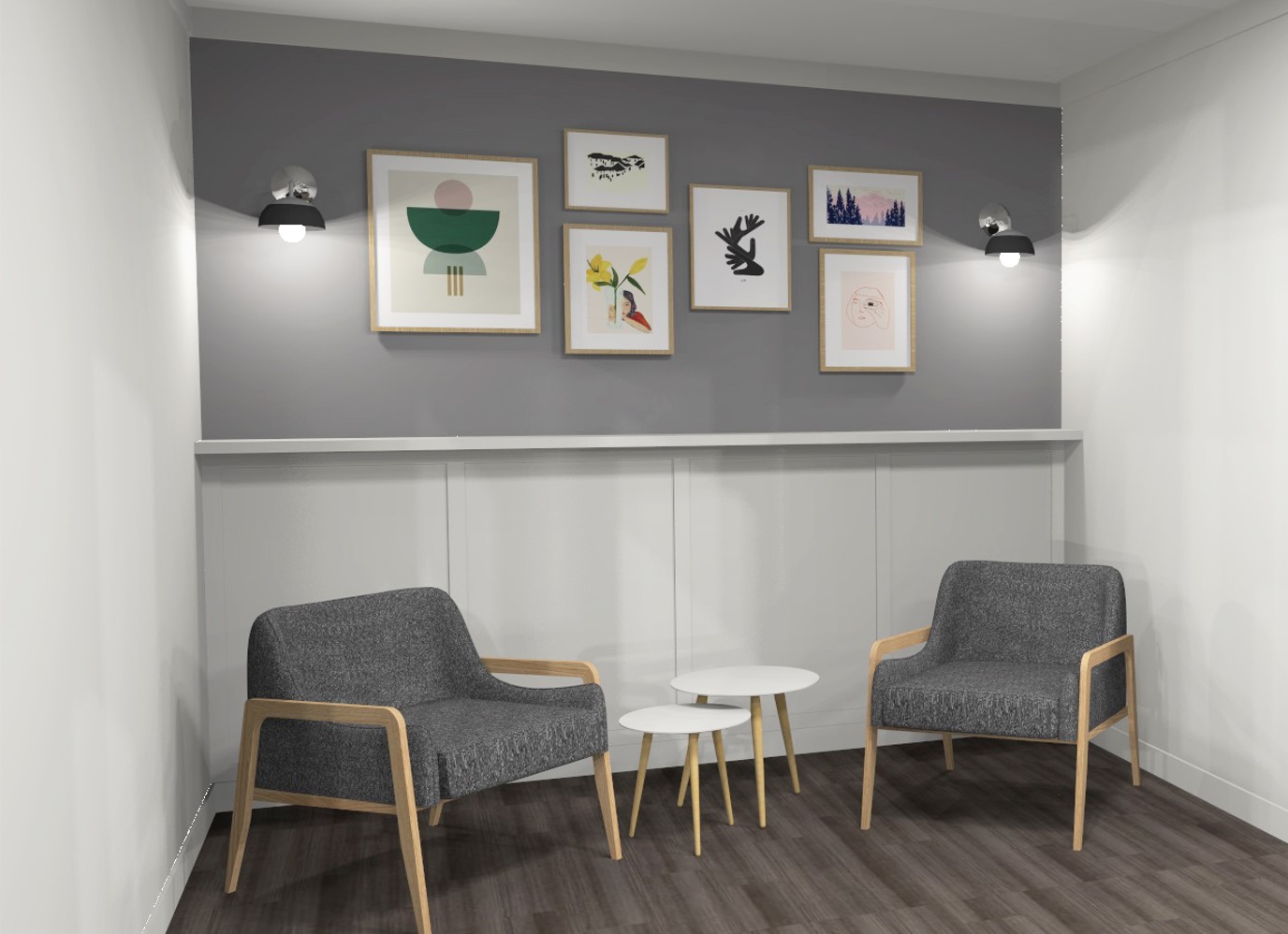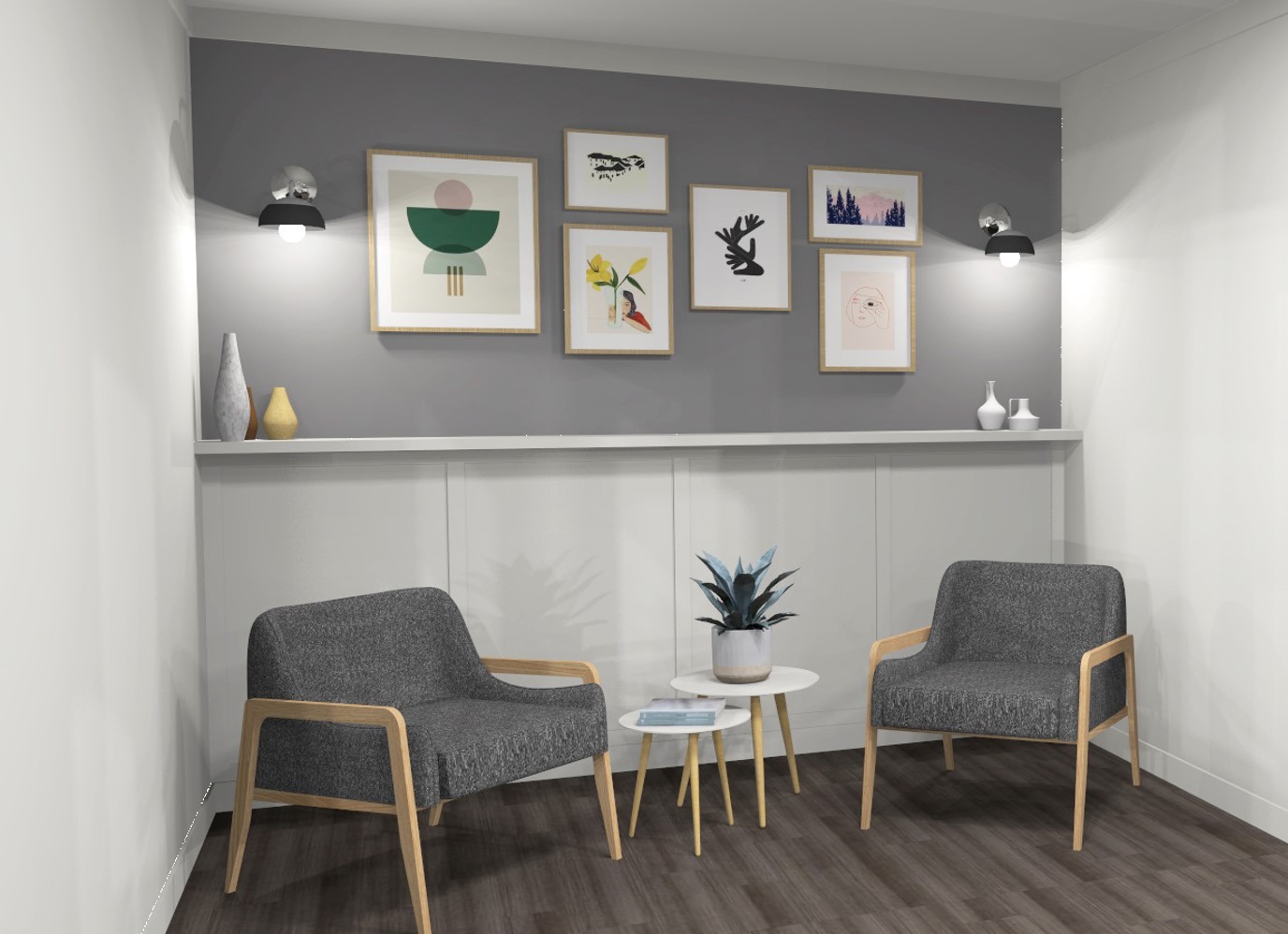 Depending on the type and size of your update, facilitating an interior project can be a drain on time, energy, and resources. We highly recommend consulting with a professional Interior Designer to assist you in creating the design, managing schedules, and coordinating with the vendors and contractors.  
For more insight on interior remodel projects, check out this webinar presented by Integrated Design Studio.