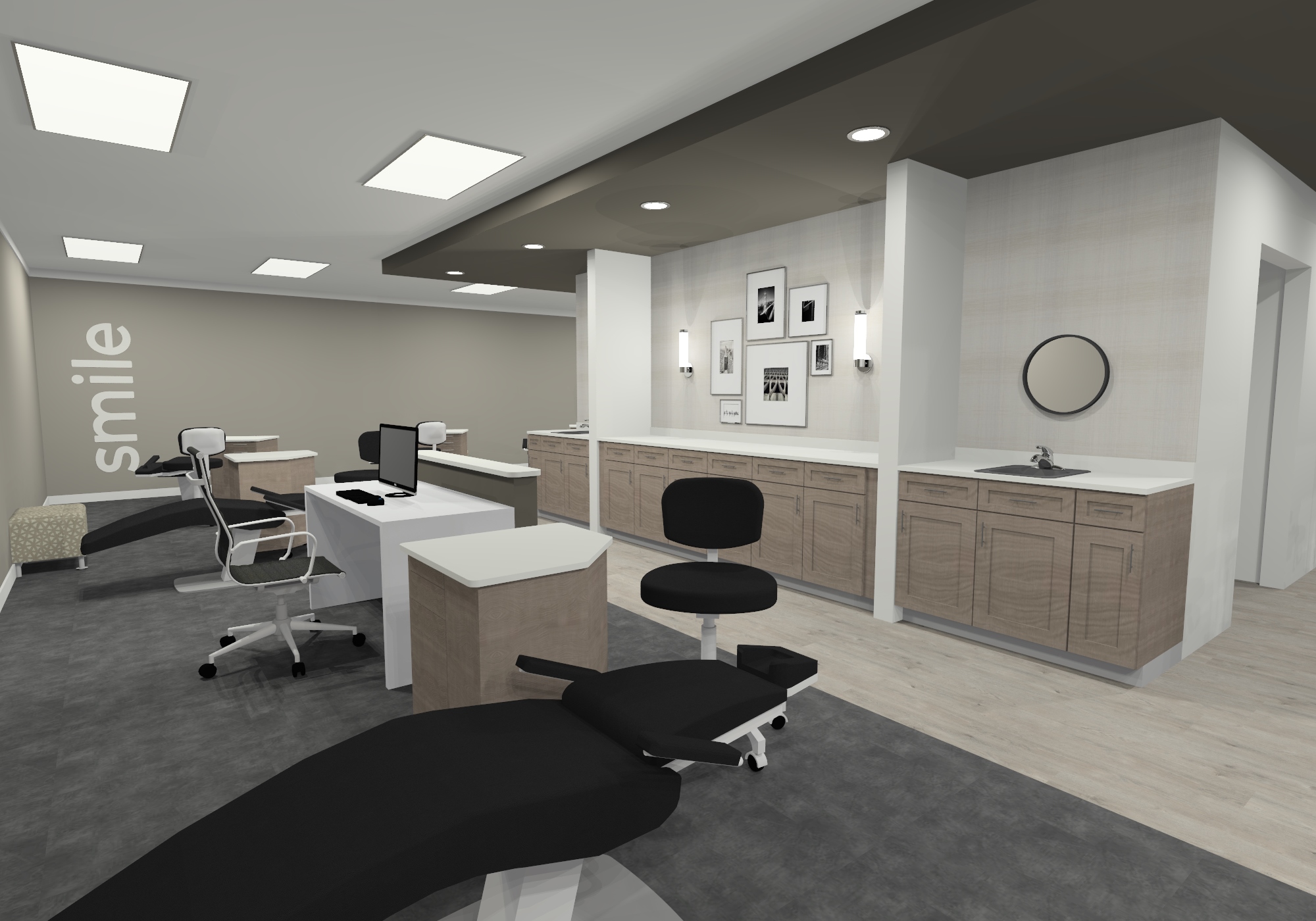 07 Jun

3764 Square Foot Orthodontic Practice Zoned for Efficient Treatment

In a high-capacity orthodontic office, efficiency is key. Between treatment planning and routine progress check-ins, a well-laid-out space is necessary to balance both the practice needs and ensure an optimal patient experience.

This functional 3,764 square foot Orthodontic dental practice incorporates a variety of components to create a functional, efficient, and compelling space for both staff and patients. Upon first look, the practice is organized in four key areas: waiting, treatment, treatment planning, and staff only.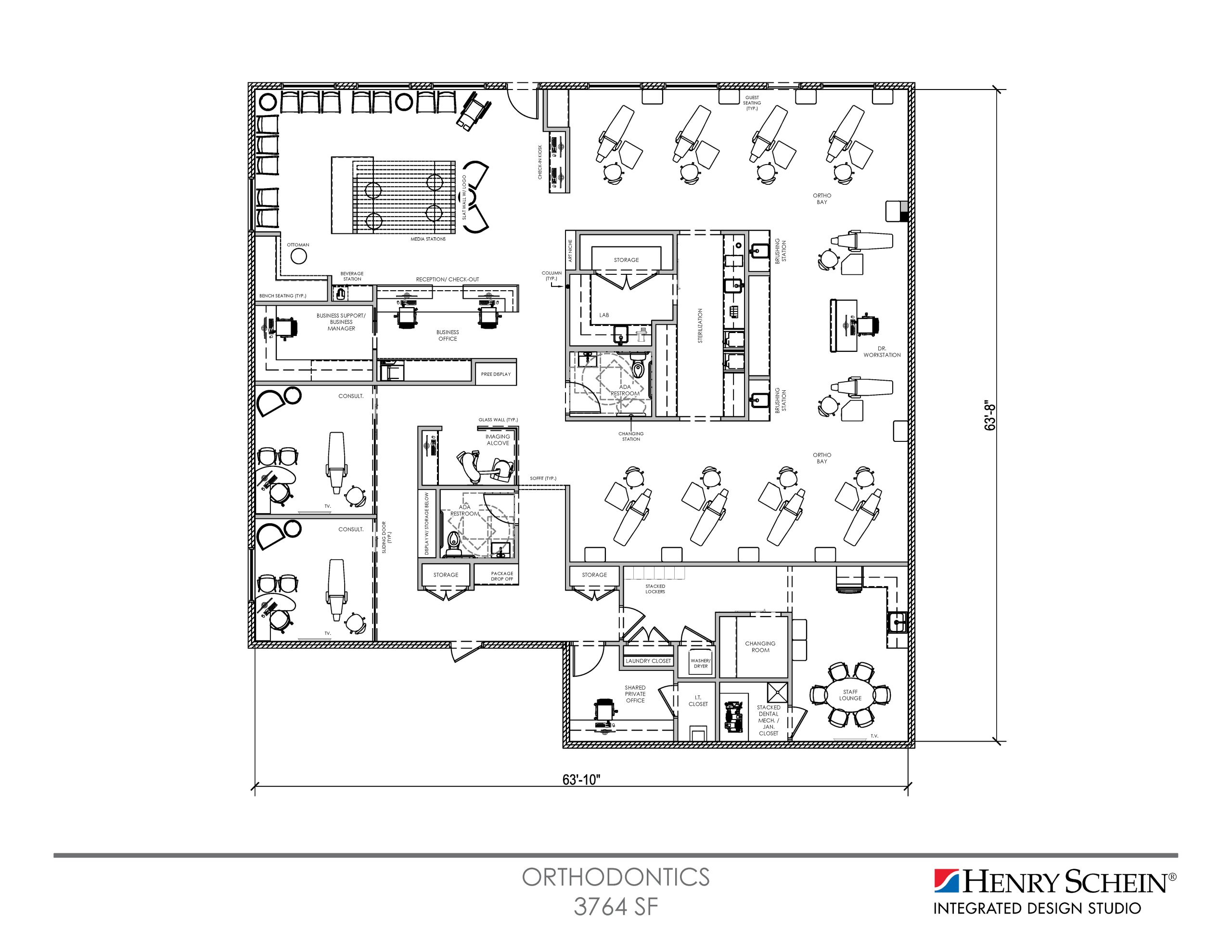 Waiting:
The logo is displayed on a slat wall right at the entry. A patient can either check-in at a kiosk or continue to the reception desk. Once checked in, there is a variety of seating options available. A media station with decorative soffiting dampens sound to create a sense of shelter and privacy from the rest of the waiting.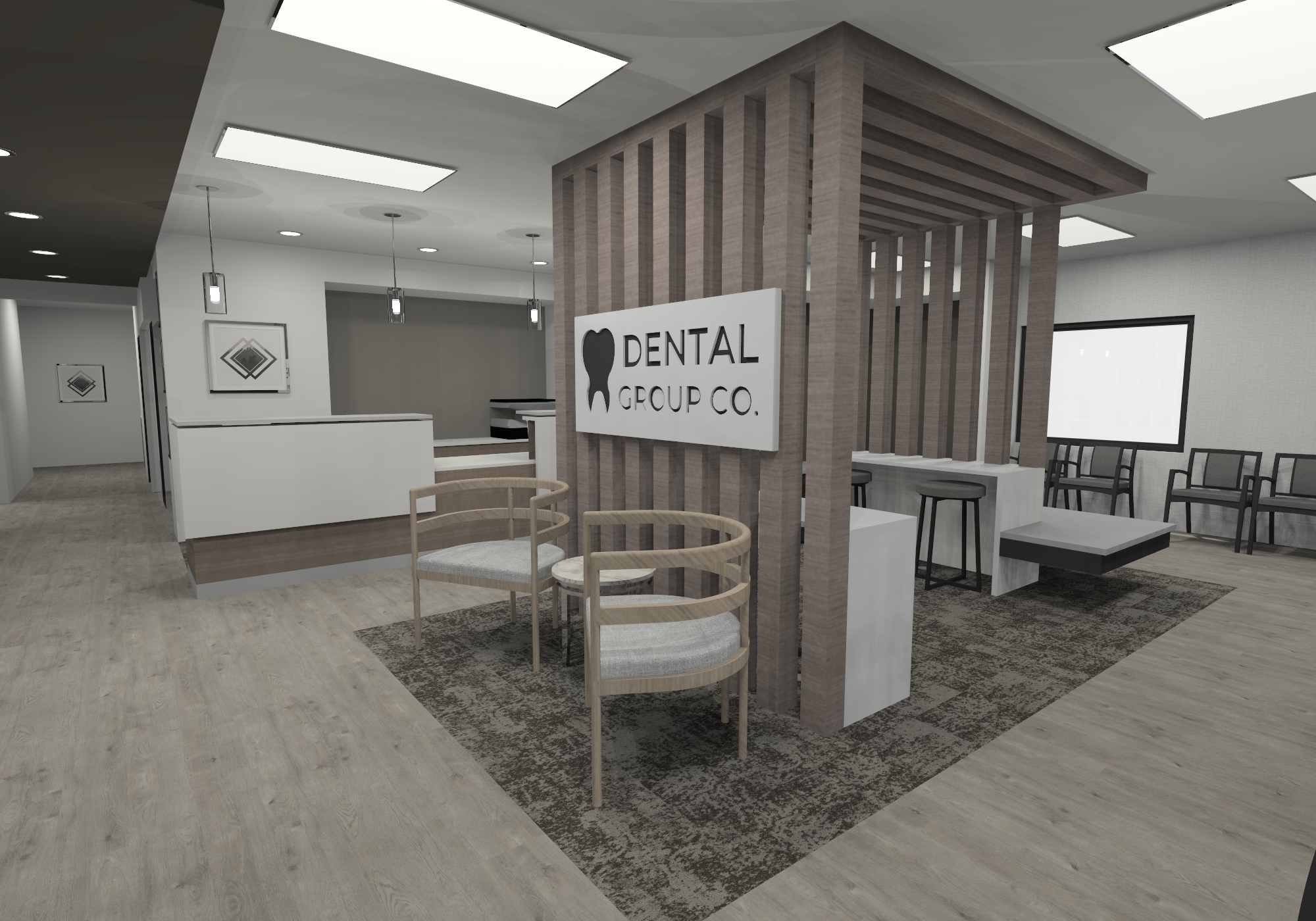 Treatment:
There are two points of entry to the large, 10-chair ortho bay. The bay is open without the feeling of being on display to those in waiting. The chairs are positioned around the treatment support center which includes the brushing station, sterilization, and an adjoining lab with a closet for bulk storage. The dual entry sterilization supports an ideal dirty to clean flow for staff to process instruments. A doctor workstation is also centrally situated in the bay for easy monitoring and accessibility for each appointment. Guest seating is positioned at the toe of each chair for parents or caretakers to accompany a patient if preferred.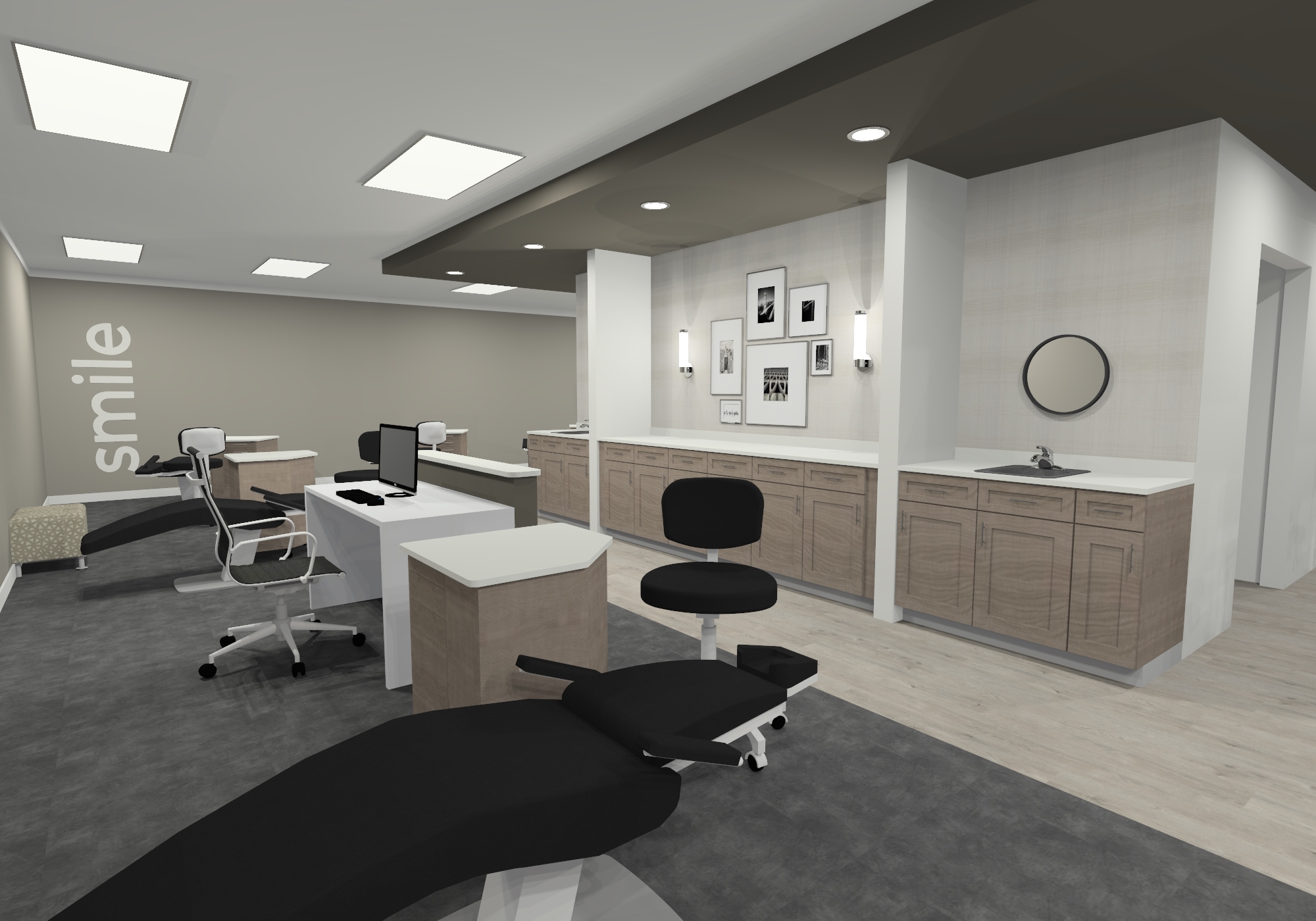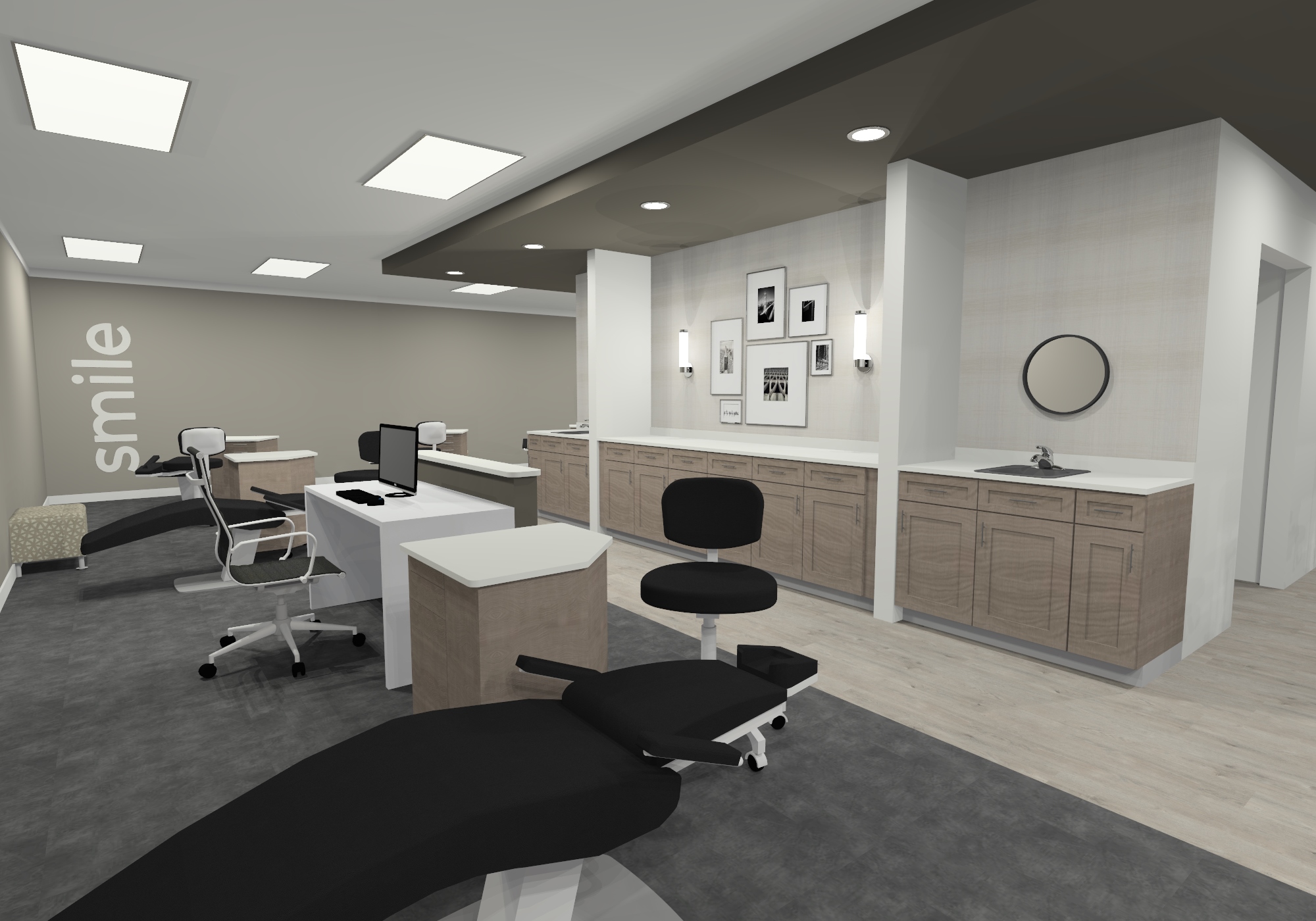 Treatment Planning:
Behind the waiting area and across the hall from the bay is treatment planning. This includes an imaging alcove and two large consultation offices with an exam chair in each. By tucking this area away from treatment, the designer has created a quiet, comfortable space away from the bustle of orthodontic check-up appointments. This would also be a great space for capturing patient pictures for a photo wall or for social media.
Staff:
The last section of the office is the staff-only zone. This includes a staff lounge, private office, I.T. closet, dental mechanicals, and additional storage. The designer has also included additional staff amenities including laundry facilities and a changing room. This room provides a space separate from a restroom that allows team members to change in or out of their work clothes comfortably. These types of private rooms can also be utilized as a type of flex space. These can act as a changing room, mother's room for nursing, or a phone booth or private workspace for the staff, traveling associates, or specialists.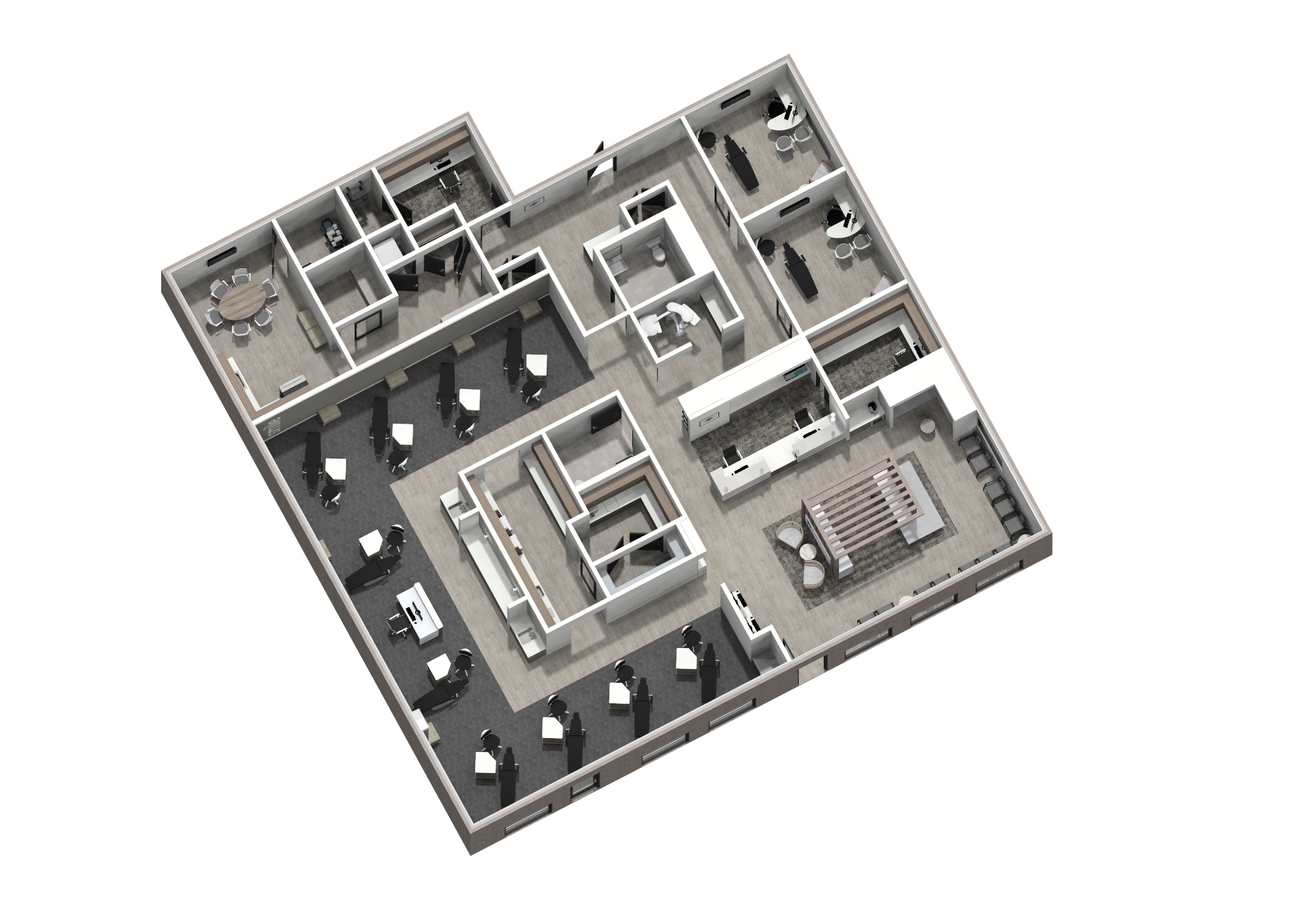 The zoning, thoughtful amenities, and expertly positioned support spaces efficiently serve the needs of both the patients receiving treatment and staff members operating in this space day to day.
For more design inspiration, check out our sample plan library.
Are you are looking for assistance in designing your space? Click on the image below to schedule a complementary practice design consultation with a Henry Schein Equipment Specialist.