23 Nov

How to Maximize Leftover Space in Your Dental Office

It may sound uncommon, but designers often find themselves with a little extra space due to an unusual building shell with an existing tenant lease space. Angles, curves, and columns can all throw treatment out of line, and cause an extra nook or gap in an otherwise efficient plan. Extra space may also be a factor when a doctor is looking to plan for growth, but doesn't have the means or the need for additional treatment space. So, when your plan has extra space, what does your designer implement to maximize your square footage?
Storage
You won't be surprised to hear designers love storage as much as you do. Anytime we can add an extra closet, shelf, or product display is a win in our book. Whether it is placed in treatment, a private staff area, or in the front office, you or your staff will very likely find a way to utilize the space.
Along the same lines of storage, an enlarged dental mechanical closet may also be a great use of extra space. Often, designers are asked to stack mechanicals to get the room as small as possible, but depending on the unit, this can limit your ability to replace equipment if it fails, or maintenance easily. Providing valuable inches can make your service tech's life much easier.
Expand Space
Hallways are like your practice's veins; they allow an efficient and fast flow of patients, staff, and supplies from room to room. Properly sized hallways are essential for your practice to function. Depending on the footprint and size of a practice, a designer will add additional square feet to your main corridors. Often this space can not be utilized to create extra space or room, so expanding the corridors allows more breathing room for your staff and patients. This may also allow additional, off-the-hall amenities like a centralized hand-washing station, stand-up consult or staff workstations, additional space at check-out or imaging, or guest seating.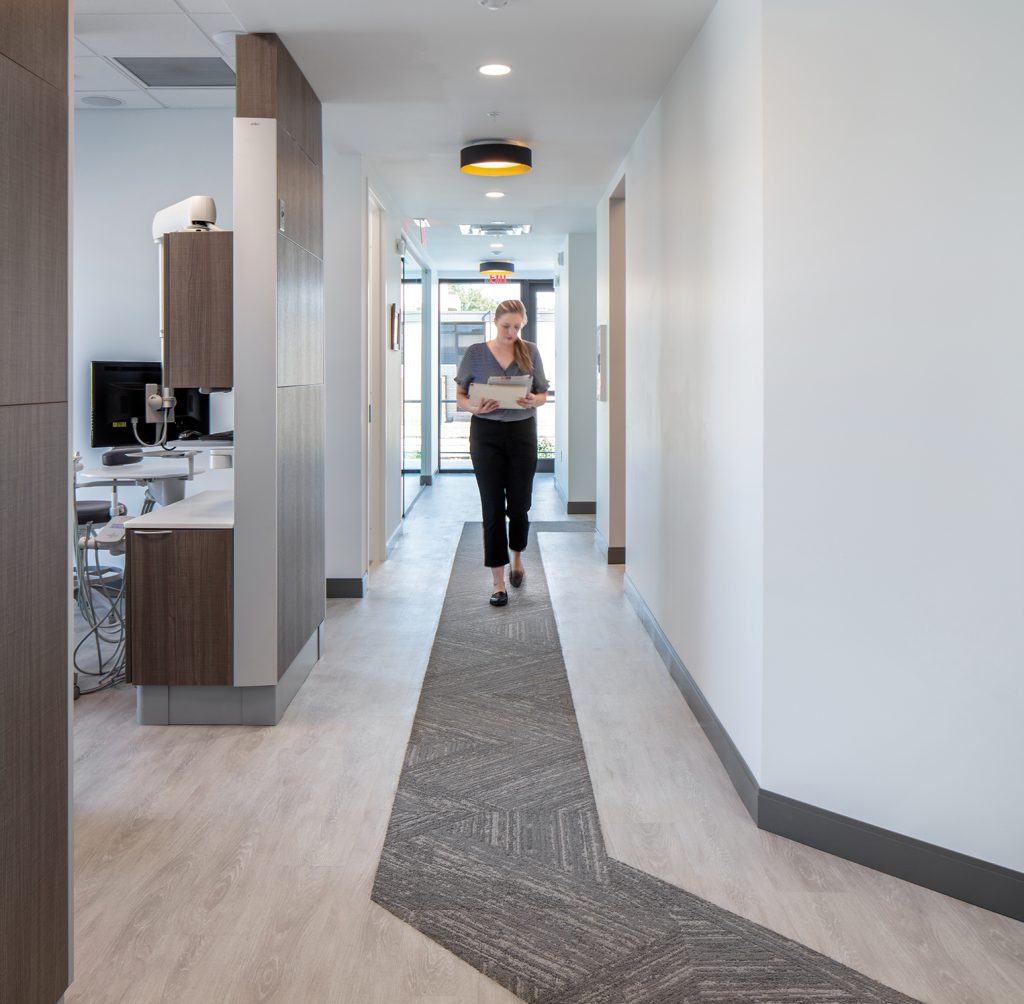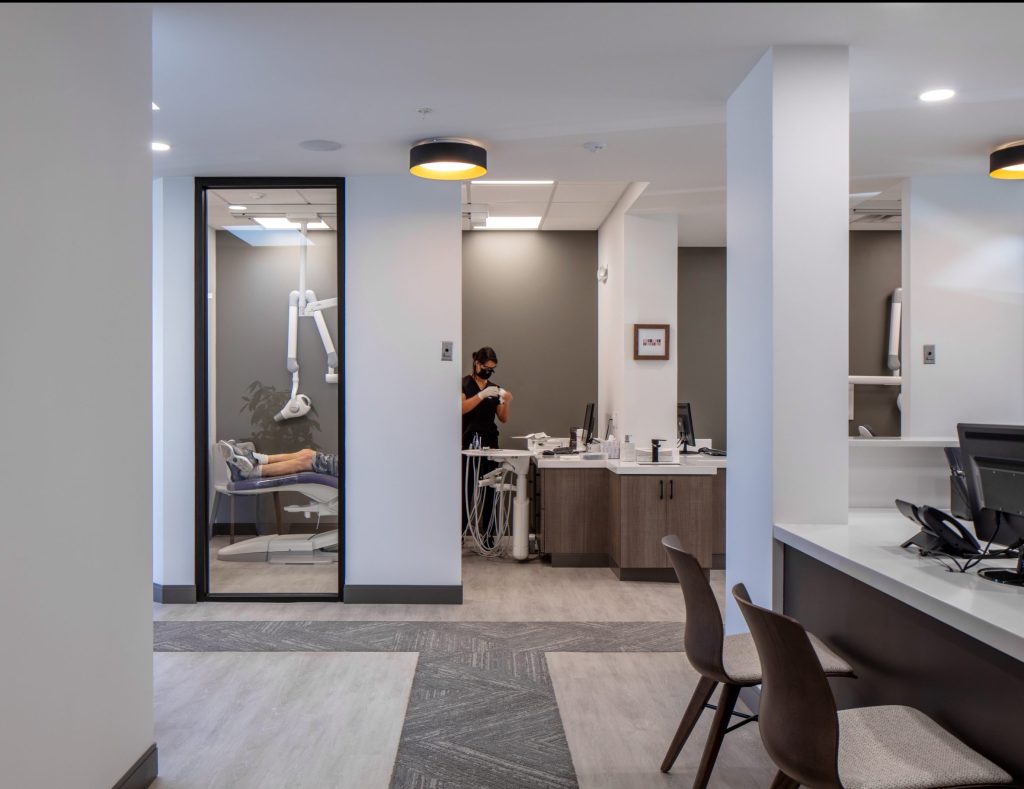 Clinical
Dedicate additional space to digital equipment. Digital labs are huge contributors to dental treatment these days, so dedicating a space for these to fit and function in your practice is essential. If you don't have the need now, it is likely you'll want to include this technology in the future. Building in a few extra feet of countertop, cabinetry, and electrical outlets will make adjusting later less of a burden. Also, consider a nook for technology docking. For traveling equipment like scanners, build in a counter or floor space with outlets centralized to treatment for easy plug-and-play ability.
Lastly, talk to your designer about your growth plans. If you are currently looking to work in 5 treatment rooms, but are interested in adding additional treatment rooms or an associate down the line, your design team can help you plan for that transition. Treatment rooms can usually be plumbed or trenched during installation and utilized as a private office or flexible room before equipment goes in. Similar to digital technology in the lab, preparing ahead of time will minimize the headache of shutdowns in the future.
Give Back to Your Staff
If you find a little extra space that can not be integrated into treatment, give it back to your most valuable resource: your staff! Adding some square footage to a staff lounge can make a huge difference in overall comfort. Lockers, changing rooms, or small touchdown office spaces are also great additions that can provide an increased staff experience.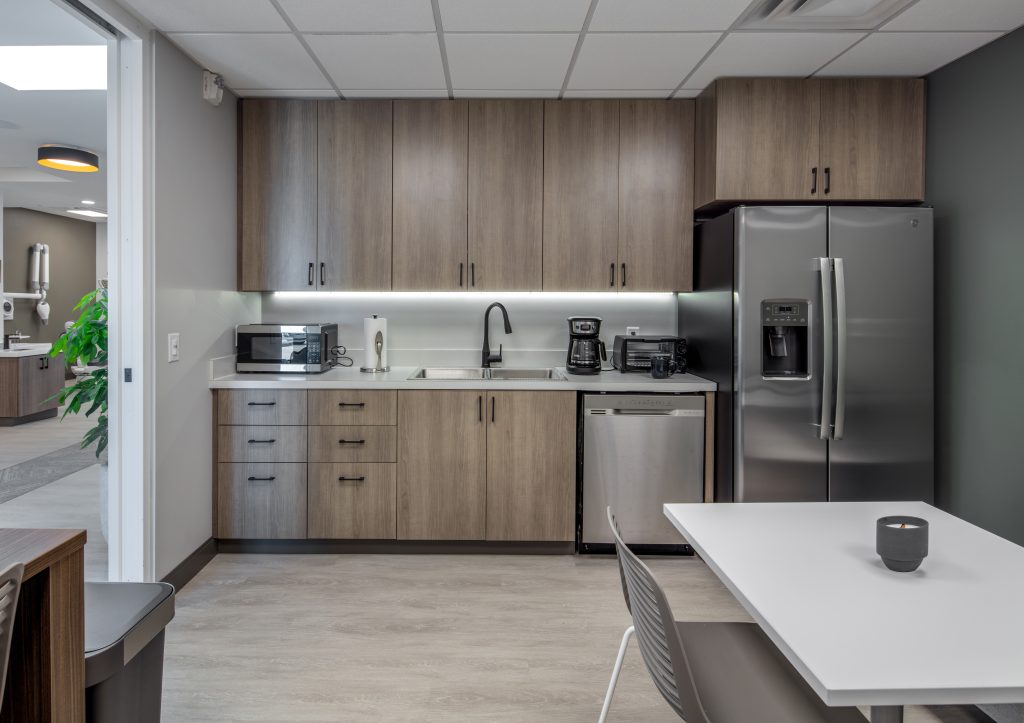 Lease it Out
If you find a great lease opportunity but the space is much larger than needed, consider leasing out the space. A tenant will bring in income to cover expenses (usually plus a little extra!) If you decide later on that you could support an expansion of your practice, you can reclaim the square footage for your practice. Not only does this future plan for your office, but it can also act as passive income.
Leftover space is not a myth when it comes to dental office design, and it is not always related to an inefficient design. Building shell sizing, obstructions, and the need to keep existing elements like restrooms and electrical panels can all add up to create odd space inadequate for an additional treatment room. Identifying your priorities and practice philosophies will inform your designer of how best to capture that square footage, and give you space that you can use and benefit from.
Check out our sample plan library and design portfolio for creative solutions for dental office design. If you would like to be put in contact with an Equipment Specialist and designer to discuss your own design, click the image below.