20 Dec

Feature Design-4320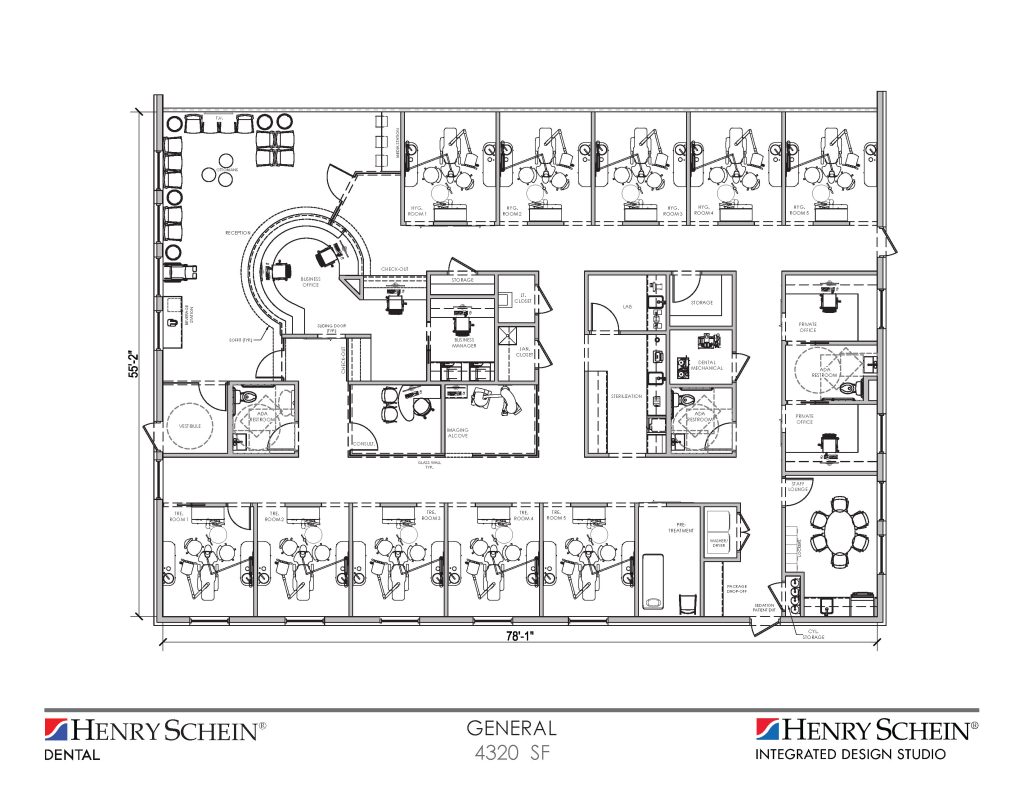 While more space is better from a practice growth and income standpoint, sometimes larger spaces come with more design concerns. How far is the dental support space from the farthest treatment room? Is there an issue with sound travel, especially resulting from dental procedures? Does your practice feel like a maze for staff and patients? This 4,320 square-foot practice maneuvered these design concerns strategically. Like perfectly proportioned city blocks, staff and patients can navigate through this 10-treatment room practice with ease.
Public Zone
The waiting room wraps around the large, circular reception desk with options for seating and a beverage station. Open areas provide space for individuals using mobility devices, caretakers pushing strollers, or those in need of extra space. Large glass walls separate the waiting room from the clinical zone, minimizing noise pollution while retaining visibility for staff monitoring.
The business desk is broken into three distinct work zones. There is a large rounded desk that supports both check-in and check-out and two separate check-out stations flanking both main clinic hallways. These separate check-out stations allow for easy flow of patients out both sides of treatment, as well as provide semi-privacy for reappointment and payment.
A business manager's office is tucked in the back of the business desk through a pocket door and houses additional support cabinetry.
Clinical Zone
Due to the close proximity of the first hygiene room to the business desk, the designer has placed sliding doors on both entrances to reduce both the noise from reception as well as the treatment sound spilling into the public zone. Soffiting throughout provides both architectural interest as well as sound absorption and displacement.
By laying out all 10 treatment rooms along the north and south wall so the practice, the designer has left the core for dental support such as the imaging alcove, sterilization, and lab.  Including two perpendicular halls through the practice maintains easy access to these essential spaces. These halls also support a galley-style sterilization layout, which not only prevents staff bottlenecks but is also providing an opportunity for additional storage cabinetry.
Private Zone
The private zone houses a large staff lounge with lockers for personal storage. A washer and dryer along with cabinetry storage under the package drop-off station support PPE processes.