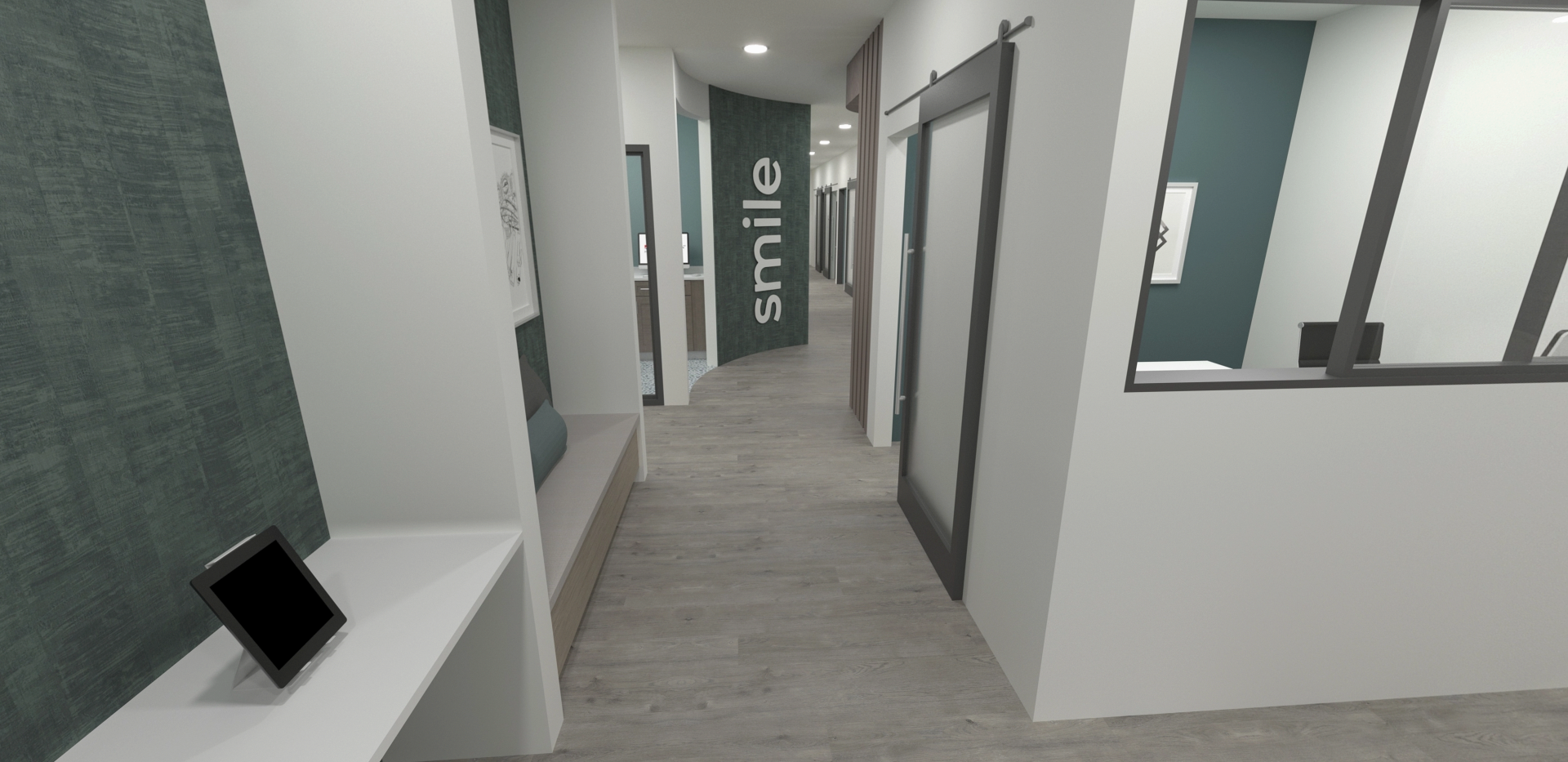 12 Sep

Efficiency in a General Office

In today's fast-paced world, dental offices have evolved beyond merely being clinical spaces. They have transformed into welcoming environments that combine efficiency, technology, and a soothing ambiance to ensure a positive patient and team experience.

This 2,274-square-foot office is ideal for a practice serving a demographic primarily comprised of independent patients attending their appointments between work or errands. A strong sense of efficiency and control is given to the patient through tech-savvy processes.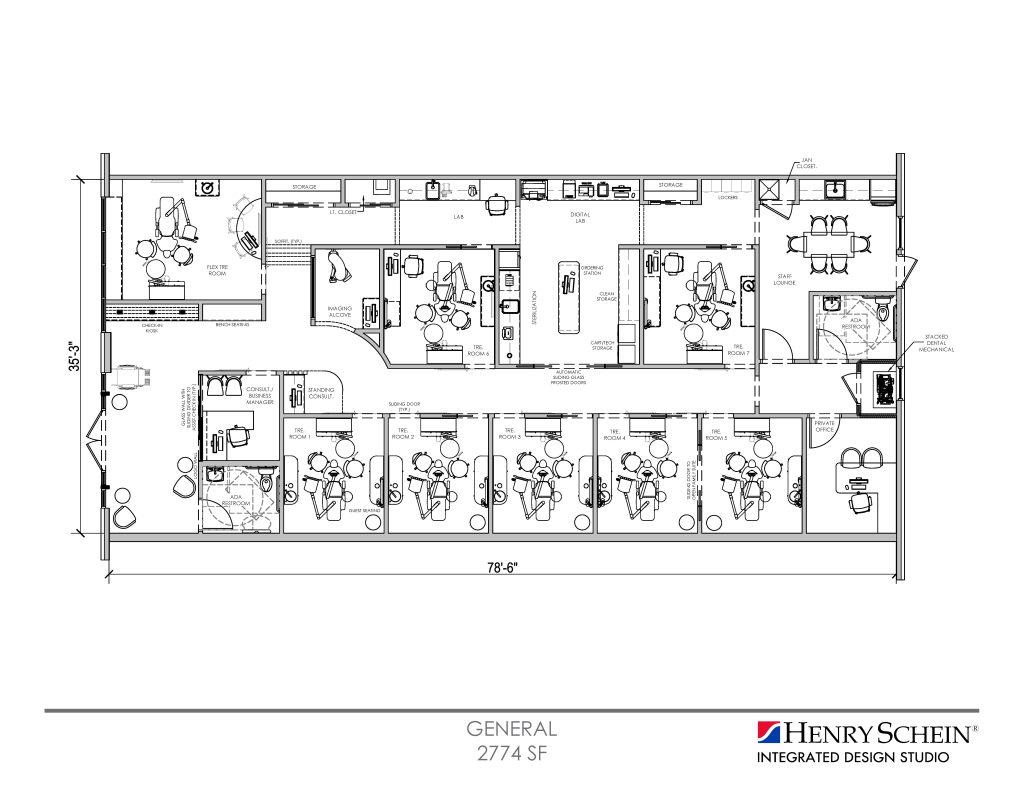 Front Office Procedures 
The reception and waiting area is minimized to dedicate more square footage to the treatment space. Three check-in kiosks support a self-guided patient experience. If additional support is needed, a pass-through window connects the business manager's office. The intention of this practice style is to transition patients into the treatment room immediately with all pre-appointment paperwork completed online prior to the appointment. The check-in kiosk informs the patient of their room and the patient will direct themselves into the treatment space. Overflow seating is available for guests, early patients, or if there are backups in the event of an emergency visit.  
Behind the bank of kiosks is a large, flexible treatment room ideal for new patient conversations or larger treatment planning discussions. Across the hall is the imaging alcove. This position is central to support the flex room conversations and is a showpiece for all those entering the practice.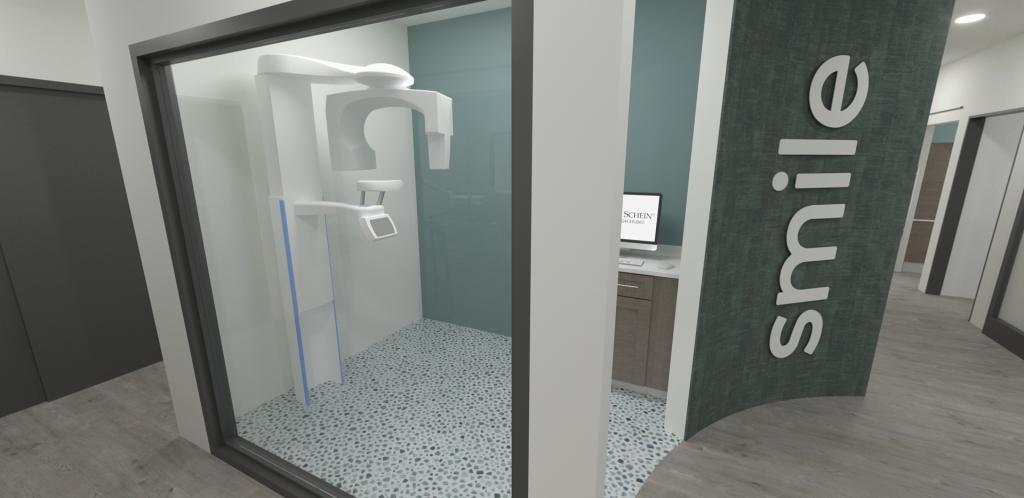 Treatment 
All treatment rooms are closed to enhance individual privacy. Treatment rooms four and five can remain closed for individual appointments, or open for a family-style suite with dual pocket doors. There are two treatment rooms that are slightly larger and are ideal for longer treatment. Patients enter behind the treatment chair, and staff have a second, separate entrance at the toe. This entrance features quick access to the clinical support areas such as the lab, digital lab, and sterilization center.  
The wet lab area is obscured behind the treatment suite, while the digital lab is open to the sterilization center. This clinical support area contains a large run of clean storage, technology docking, and cart storage, as well as a large ordering station. Automatic doors open back out to the treatment hall for easy access.  
Staff Spaces 
The back section of the office contains a private office, team lounge, and staff-dedicated restroom.  The staff lounge connects to both the central clinical hall and a back, staff-only hall to the clinical support area.